Hello!
I'm using a model as a data source in order to build questions and use them in a dashboard.
Before i add the filters to the dashboard i set as category the fields that i would like to use as filters: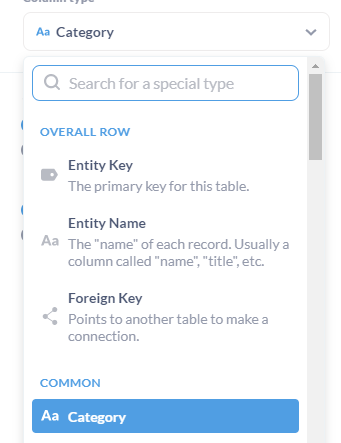 Then, i added the filters but the values don't appear as a dropdown list as you can see in the following picture:


Am i missing something or should i do in another way in order to have the values as a dropdown list in the filters?
Thank you in advance!
{
  "browser-info": {
    "language": "en-US",
    "platform": "Win32",
    "userAgent": "Mozilla/5.0 (Windows NT 10.0; Win64; x64) AppleWebKit/537.36 (KHTML, like Gecko) Chrome/112.0.0.0 Safari/537.36",
    "vendor": "Google Inc."
  },
  "system-info": {
    "file.encoding": "UTF-8",
    "java.runtime.name": "OpenJDK Runtime Environment",
    "java.runtime.version": "11.0.18+10",
    "java.vendor": "Eclipse Adoptium",
    "java.vendor.url": "https://adoptium.net/",
    "java.version": "11.0.18",
    "java.vm.name": "OpenJDK 64-Bit Server VM",
    "java.vm.version": "11.0.18+10",
    "os.name": "Linux",
    "os.version": "5.15.102",
    "user.language": "en",
    "user.timezone": "UTC"
  },
  "metabase-info": {
    "databases": [
      "mysql",
      "postgres",
      "bigquery-cloud-sdk",
      "redshift"
    ],
    "hosting-env": "unknown",
    "application-database": "mysql",
    "application-database-details": {
      "database": {
        "name": "MySQL",
        "version": "5.7.12"
      },
      "jdbc-driver": {
        "name": "MariaDB Connector/J",
        "version": "2.7.6"
      }
    },
    "run-mode": "prod",
    "version": {
      "date": "2023-02-19",
      "tag": "v0.45.3",
      "branch": "release-x.45.x",
      "hash": "070f57b"
    },
    "settings": {
      "report-timezone": null
    }
  }
}