I'm trying to produce a bar plot using metabase connecting in a BigQuery instance . However, the values returned by BigQuery are a little strange.
The values are returned as numeric: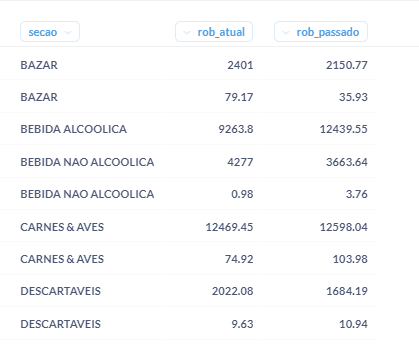 However, the values showed in graph are with a zero before and after. Because of that, formatting are not possible: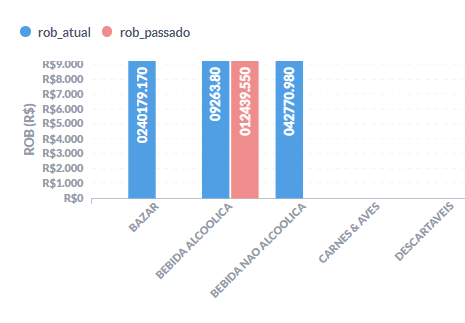 This odd behaviour is appearing in other dashboards. For example, I have this other question that is just a table. Here are the values:
When a I try to sort the "rob_atual" columns, the sort order is weird, as metabase is interpreting the column as string: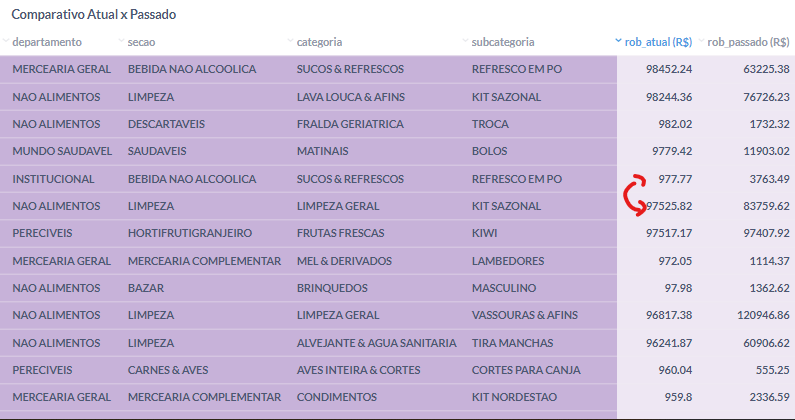 I'm not sure, but both problems seen correlated, as metabase is getting a numeric column and acting as it is an string.
Does anyone can help me? Here is the diagnostic info:
{
"browser-info": {
"language": "pt-BR",
"platform": "Win32",
"userAgent": "Mozilla/5.0 (Windows NT 10.0; Win64; x64) AppleWebKit/537.36 (KHTML, like Gecko) Chrome/99.0.4844.83 Safari/537.36",
"vendor": "Google Inc."
},
"system-info": {
"file.encoding": "UTF-8",
"java.runtime.name": "OpenJDK Runtime Environment",
"java.runtime.version": "11.0.14.1+1",
"java.vendor": "Eclipse Adoptium",
"java.vendor.url": "https://adoptium.net/",
"java.version": "11.0.14.1",
"java.vm.name": "OpenJDK 64-Bit Server VM",
"java.vm.version": "11.0.14.1+1",
"os.name": "Linux",
"os.version": "4.14.35-1902.300.11.el7uek.x86_64",
"user.language": "en",
"user.timezone": "America/Recife"
},
"metabase-info": {
"databases": [
"postgres",
"h2",
"bigquery-cloud-sdk"
],
"hosting-env": "unknown",
"application-database": "postgres",
"application-database-details": {
"database": {
"name": "PostgreSQL",
"version": "12.1"
},
"jdbc-driver": {
"name": "PostgreSQL JDBC Driver",
"version": "42.2.23"
}
},
"run-mode": "prod",
"version": {
"date": "2022-02-17",
"tag": "v0.42.1",
"branch": "release-x.42.x",
"hash": "629f4de"
},
"settings": {
"report-timezone": "America/Sao_Paulo"
}
}
}