Data that is grouped by week - using FORMAT_DATE("%Y-%V", DATE(timestamp)) in BigQuery standard SQL - is displayed in a bar chart (or line chart) like this:


The underlying figures and the grouping are ok though, if switched to table format everything looks fine, also the week numbers: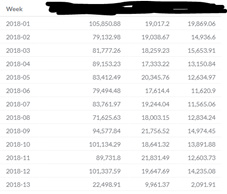 Any suggested solution? This seems to be a bug in how the chart interprets and groups the week numbers, rather as month than week.
Thanks for your help!