Hi,
I am not able to see the 'icon' to create a model: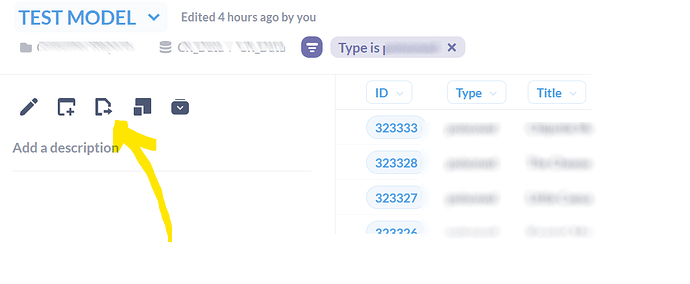 Wonderful if anyone has any suggestions ?
I have seen it on other installations we have - with exact same install/setup as far as I'm aware, only difference I can think of is this one looks at a snowflake data source, but I don't see how that would cause an issue.?
we are on 0.42.2
Thanks in advance
Jaz
{
  "browser-info": {
    "language": "en-US",
    "platform": "Win32",
    "userAgent": "Mozilla/5.0 (Windows NT 10.0; Win64; x64) AppleWebKit/537.36 (KHTML, like Gecko) Chrome/100.0.4896.127 Safari/537.36",
    "vendor": "Google Inc."
  },
  "system-info": {
    "file.encoding": "UTF-8",
    "java.runtime.name": "OpenJDK Runtime Environment",
    "java.runtime.version": "11.0.14.1+1",
    "java.vendor": "Eclipse Adoptium",
    "java.vendor.url": "https://adoptium.net/",
    "java.version": "11.0.14.1",
    "java.vm.name": "OpenJDK 64-Bit Server VM",
    "java.vm.version": "11.0.14.1+1",
    "os.name": "Linux",
    "os.version": "4.14.275-142.503.amzn1.x86_64",
    "user.language": "en",
    "user.timezone": "GMT"
  },
  "metabase-info": {
    "databases": [
      "redshift",
      "snowflake"
    ],
    "hosting-env": "unknown",
    "application-database": "mysql",
    "application-database-details": {
      "database": {
        "name": "MySQL",
        "version": "8.0.25"
      },
      "jdbc-driver": {
        "name": "MariaDB Connector/J",
        "version": "2.6.2"
      }
    },
    "run-mode": "prod",
    "version": {
      "date": "2022-02-28",
      "tag": "v0.42.2",
      "branch": "release-x.42.x",
      "hash": "d6ff494"
    },
    "settings": {
      "report-timezone": "US/Eastern"
    }
  }
}