Hi All,
I am trying to Integrate Slack with Metabase. I have generated the Token and I am trying to put the token and when clicked on Save Button, it is saying "Read Time Out". What is this issue, and what can be to get this resolved?
FYI: We are using Slack for corporate.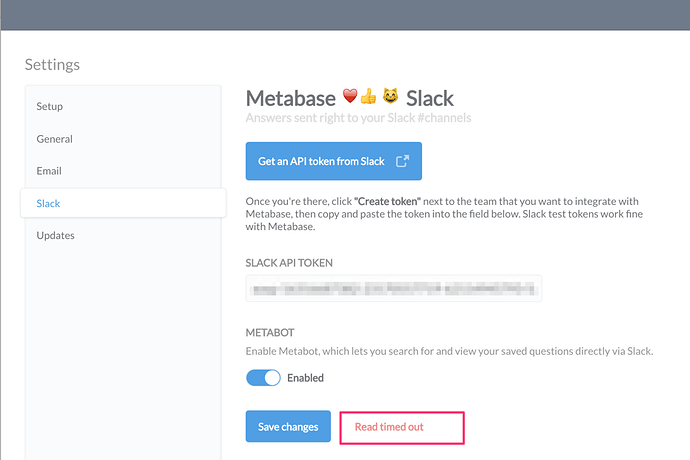 Team @Slack says this:
Can you talk more about this? What's not working? Are you seeing an error message? What are you trying to achieve?
When you generate a Test Token, it's associated with the currently signed in user and team. It will automatically be granted certain OAuth scopes depending on the account type. See the Test token capabilities section of the API docs.
If the user account you're generating the token with doesn't have access to the right scope(s) it won't be possible to call certain methods or for your app to perform certain actions.
Are you the creator of the Metabase integration? or are you just wanting to add this to your Slack team?
The integration method outlined in the Metabase documention is rather outdated and no longer recommended as best practice. The Slack Button is the simpilist and most secure way to authenticate an app or service to your Slack team.
Thanks,
Chouhan