Hi!


I have a few cards, where I am not able to select the comma separator format. When I open the card, I am only able to view this.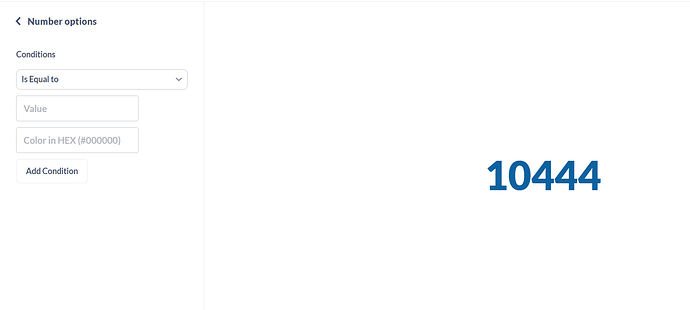 In other cards, I am able to get the option to do so.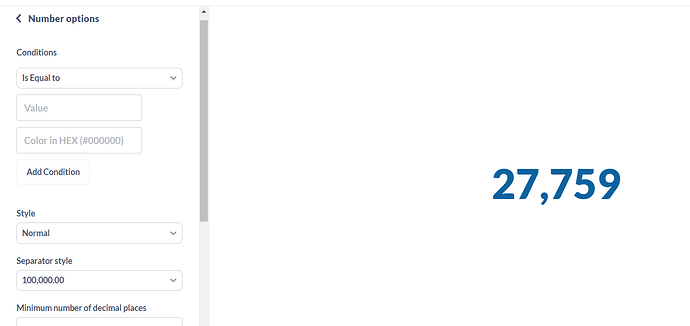 I'm facing this issue with all cards in that table. What could be the reason for this, and what can I do to fix this? Thanks in advance!
Diagnositc Info
{
"browser-info": {
"language": "en-US",
"platform": "Win32",
"userAgent": "Mozilla/5.0 (Windows NT 10.0; Win64; x64) AppleWebKit/537.36 (KHTML, like Gecko) Chrome/105.0.0.0 Safari/537.36",
"vendor": "Google Inc."
},
"system-info": {
"file.encoding": "UTF-8",
"java.runtime.name": "OpenJDK Runtime Environment",
"java.runtime.version": "11.0.16+8",
"java.vendor": "Eclipse Adoptium",
"java.vendor.url": "https://adoptium.net/",
"java.version": "11.0.16",
"java.vm.name": "OpenJDK 64-Bit Server VM",
"java.vm.version": "11.0.16+8",
"os.name": "Linux",
"os.version": "5.4.0-124-generic",
"user.language": "en",
"user.timezone": "GMT"
},
"metabase-info": {
"databases": [
"h2",
"postgres",
"bigquery-cloud-sdk"
],
"hosting-env": "unknown",
"application-database": "postgres",
"application-database-details": {
"database": {
"name": "PostgreSQL",
"version": "12.1"
},
"jdbc-driver": {
"name": "PostgreSQL JDBC Driver",
"version": "42.3.5"
}
},
"run-mode": "prod",
"version": {
"date": "2022-08-03",
"tag": "v0.44.1-SNAPSHOT",
"branch": "Custom-Map-Feature",
"hash": "537eb8d"
},
"settings": {
"report-timezone": null
}
}
}