Hi, we are using 0.35.4 Java 11 OpenJDK and created a custom view to enrich some date for our needed questions.
Metabase is talking remotely to another server with a DB replica of the live db data.
When I go to the UI editor and want to get r.g. everything created the last 30 days it will drop the message, it took to long/much time.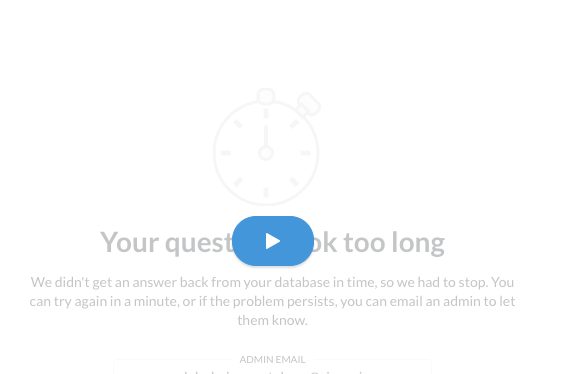 Message appears after 5 mins.
If I question it via SQL native query it does work within few seconds.
In the log I can see one big error:
[788388f5-ce08-4f97-82b5-bf407bf9992c] 2020-07-03T11:04:43+02:00 ERROR metabase.query-processor.middleware.catch-exceptions Error processing query: null
{:database_id 9,
:started_at (t/zoned-date-time "2020-07-03T09:59:42.779360+01:00[Europe/London]"),
:state "57014",
:json_query
{:type "query",
:query {:source-table 2408, :filter ["time-interval" ["field-id" 17511] -30 "day" {:include-current true}]},
:database 9,
:parameters [],
:middleware {:add-default-userland-constraints? true}},
:native
{:query
"SELECT "public"."myview_enriched_issue"."assignee" AS "assignee", "public"."myview_enriched_issue"."complexity" AS "complexity", "public"."myview_enriched_issue"."created_date" AS "created_date", "public"."myview_enriched_issue"."creator" AS "creator", "public"."myview_enriched_issue"."fix_version" AS "fix_version", "public"."myview_enriched_issue"."issue_components" AS "issue_components", "public"."myview_enriched_issue"."issue_number" AS "issue_number", "public"."myview_enriched_issue"."issue_priority" AS "issue_priority", "public"."myview_enriched_issue"."issue_statuses" AS "issue_statuses", "public"."myview_enriched_issue"."issue_type" AS "issue_type", "public"."myview_enriched_issue"."minutes_spent" AS "minutes_spent", "public"."myview_enriched_issue"."new_or_known" AS "new_or_known", "public"."myview_enriched_issue"."paid_work" AS "paid_work", "public"."myview_enriched_issue"."region" AS "region", "public"."myview_enriched_issue"."reporter" AS "reporter", "public"."myview_enriched_issue"."resolution" AS "resolution", "public"."myview_enriched_issue"."resolved_date" AS "resolved_date", "public"."myview_enriched_issue"."responsible_squad" AS "responsible_squad", "public"."myview_enriched_issue"."salesforce_account" AS "salesforce_account", "public"."myview_enriched_issue"."salesforce_advanced_support" AS "salesforce_advanced_support", "public"."myview_enriched_issue"."salesforce_customer_segment" AS "salesforce_customer_segment", "public"."myview_enriched_issue"."salesforce_success_manager" AS "salesforce_success_manager", "public"."myview_enriched_issue"."system_mode" AS "system_mode", "public"."myview_enriched_issue"."time_to_first_response" AS "time_to_first_response", "public"."myview_enriched_issue"."time_to_resolution" AS "time_to_resolution", "public"."myview_enriched_issue"."updated_date" AS "updated_date" FROM "public"."myview_enriched_issue" WHERE CAST("public"."myview_enriched_issue"."created_date" AS date) BETWEEN CAST((CAST(now() AS timestamp) + (INTERVAL '-30 day')) AS date) AND CAST(now() AS date) LIMIT 2000",
:params nil},
:status :failed,
:class org.postgresql.util.PSQLException,
:stacktrace
["org.postgresql.core.v3.QueryExecutorImpl.receiveErrorResponse(QueryExecutorImpl.java:2497)"
"org.postgresql.core.v3.QueryExecutorImpl.processResults(QueryExecutorImpl.java:2233)"
"org.postgresql.core.v3.QueryExecutorImpl.execute(QueryExecutorImpl.java:310)"
"org.postgresql.jdbc.PgStatement.executeInternal(PgStatement.java:446)"
"org.postgresql.jdbc.PgStatement.execute(PgStatement.java:370)"
"org.postgresql.jdbc.PgPreparedStatement.executeWithFlags(PgPreparedStatement.java:149)"
"org.postgresql.jdbc.PgPreparedStatement.executeQuery(PgPreparedStatement.java:108)"
"com.mchange.v2.c3p0.impl.NewProxyPreparedStatement.executeQuery(NewProxyPreparedStatement.java:431)"
"–> driver.sql_jdbc.execute$fn__70879.invokeStatic(execute.clj:267)"
"driver.sql_jdbc.execute$fn__70879.invoke(execute.clj:265)"
"driver.sql_jdbc.execute$execute_reducible_query.invokeStatic(execute.clj:389)"
"driver.sql_jdbc.execute$execute_reducible_query.invoke(execute.clj:377)"
"driver.sql_jdbc$fn__73052.invokeStatic(sql_jdbc.clj:49)"
"driver.sql_jdbc$fn__73052.invoke(sql_jdbc.clj:47)"
"query_processor.context$executef.invokeStatic(context.clj:59)"
"query_processor.context$executef.invoke(context.clj:48)"
"query_processor.context.default$default_runf.invokeStatic(default.clj:69)"
"query_processor.context.default$default_runf.invoke(default.clj:67)"
"query_processor.context$runf.invokeStatic(context.clj:45)"
"query_processor.context$runf.invoke(context.clj:39)"
"query_processor.reducible$pivot.invokeStatic(reducible.clj:34)"
"query_processor.reducible$pivot.invoke(reducible.clj:31)"
"query_processor.middleware.mbql_to_native$mbql__GT_native$fn__43149.invoke(mbql_to_native.clj:26)"
"query_processor.middleware.check_features$check_features$fn__42463.invoke(check_features.clj:42)"
"query_processor.middleware.optimize_datetime_filters$optimize_datetime_filters$fn__43314.invoke(optimize_datetime_filters.clj:133)"
"query_processor.middleware.wrap_value_literals$wrap_value_literals$fn__47282.invoke(wrap_value_literals.clj:137)"
"query_processor.middleware.annotate$add_column_info$fn__41084.invoke(annotate.clj:577)"
"query_processor.middleware.permissions$check_query_permissions$fn__42338.invoke(permissions.clj:64)"
"query_processor.middleware.pre_alias_aggregations$pre_alias_aggregations$fn__43813.invoke(pre_alias_aggregations.clj:40)"
"query_processor.middleware.cumulative_aggregations$handle_cumulative_aggregations$fn__42536.invoke(cumulative_aggregations.clj:61)"
"query_processor.middleware.resolve_joins$resolve_joins$fn__44345.invoke(resolve_joins.clj:183)"
"query_processor.middleware.add_implicit_joins$add_implicit_joins$fn__39271.invoke(add_implicit_joins.clj:245)"
"query_processor.middleware.limit$limit$fn__43135.invoke(limit.clj:38)"
"query_processor.middleware.format_rows$format_rows$fn__43116.invoke(format_rows.clj:81)"
"query_processor.middleware.desugar$desugar$fn__42602.invoke(desugar.clj:22)"
"query_processor.middleware.binning$update_binning_strategy$fn__41628.invoke(binning.clj:229)"
"query_processor.middleware.resolve_fields$resolve_fields$fn__42144.invoke(resolve_fields.clj:24)"
"query_processor.middleware.add_dimension_projections$add_remapping$fn__38807.invoke(add_dimension_projections.clj:272)"
"query_processor.middleware.add_implicit_clauses$add_implicit_clauses$fn__39027.invoke(add_implicit_clauses.clj:147)"
"query_processor.middleware.add_source_metadata$add_source_metadata_for_source_queries$fn__39420.invoke(add_source_metadata.clj:105)"
"query_processor.middleware.reconcile_breakout_and_order_by_bucketing$reconcile_breakout_and_order_by_bucketing$fn__44010.invoke(reconcile_breakout_and_order_by_bucketing.clj:98)"
"query_processor.middleware.auto_bucket_datetimes$auto_bucket_datetimes$fn__41269.invoke(auto_bucket_datetimes.clj:125)"
"query_processor.middleware.resolve_source_table$resolve_source_tables$fn__42191.invoke(resolve_source_table.clj:46)"
"query_processor.middleware.parameters$substitute_parameters$fn__43795.invoke(parameters.clj:97)"
"query_processor.middleware.resolve_referenced$resolve_referenced_card_resources$fn__42243.invoke(resolve_referenced.clj:80)"
"query_processor.middleware.expand_macros$expand_macros$fn__42858.invoke(expand_macros.clj:158)"
"query_processor.middleware.add_timezone_info$add_timezone_info$fn__39451.invoke(add_timezone_info.clj:15)"
"query_processor.middleware.splice_params_in_response$splice_params_in_response$fn__47166.invoke(splice_params_in_response.clj:32)"
"query_processor.middleware.resolve_database_and_driver$resolve_database_and_driver$fn__44021$fn__44025.invoke(resolve_database_and_driver.clj:33)"
"driver$do_with_driver.invokeStatic(driver.clj:61)"
"driver$do_with_driver.invoke(driver.clj:57)"
"query_processor.middleware.resolve_database_and_driver$resolve_database_and_driver$fn__44021.invoke(resolve_database_and_driver.clj:27)"
"query_processor.middleware.fetch_source_query$resolve_card_id_source_tables$fn__43064.invoke(fetch_source_query.clj:243)"
"query_processor.middleware.store$initialize_store$fn__47175$fn__47176.invoke(store.clj:11)"
"query_processor.store$do_with_store.invokeStatic(store.clj:46)"
"query_processor.store$do_with_store.invoke(store.clj:40)"
"query_processor.middleware.store$initialize_store$fn__47175.invoke(store.clj:10)"
"query_processor.middleware.cache$maybe_return_cached_results$fn__42120.invoke(cache.clj:209)"
"query_processor.middleware.validate$validate_query$fn__47184.invoke(validate.clj:10)"
"query_processor.middleware.normalize_query$normalize$fn__43162.invoke(normalize_query.clj:22)"
"query_processor.middleware.add_rows_truncated$add_rows_truncated$fn__39289.invoke(add_rows_truncated.clj:36)"
"query_processor.middleware.results_metadata$record_and_return_metadata_BANG_$fn__47151.invoke(results_metadata.clj:128)"
"query_processor.middleware.constraints$add_default_userland_constraints$fn__42479.invoke(constraints.clj:42)"
"query_processor.middleware.process_userland_query$process_userland_query$fn__43884.invoke(process_userland_query.clj:136)"
"query_processor.middleware.catch_exceptions$catch_exceptions$fn__42422.invoke(catch_exceptions.clj:174)"
"query_processor.reducible$async_qp$qp_STAR___38090$thunk__38091.invoke(reducible.clj:101)"
"query_processor.reducible$async_qp$qp_STAR___38090.invoke(reducible.clj:107)"
"query_processor.reducible$sync_qp$qp_STAR___38099$fn__38102.invoke(reducible.clj:133)"
"query_processor.reducible$sync_qp$qp_STAR___38099.invoke(reducible.clj:132)"
"query_processor$process_userland_query.invokeStatic(query_processor.clj:218)"
"query_processor$process_userland_query.doInvoke(query_processor.clj:214)"
"query_processor$fn__47350$process_query_and_save_execution_BANG___47359$fn__47362.invoke(query_processor.clj:233)"
"query_processor$fn__47350$process_query_and_save_execution_BANG___47359.invoke(query_processor.clj:225)"
"query_processor$fn__47394$process_query_and_save_with_max_results_constraints_BANG___47403$fn__47406.invoke(query_processor.clj:245)"
"query_processor$fn__47394$process_query_and_save_with_max_results_constraints_BANG___47403.invoke(query_processor.clj:238)"
"api.dataset$fn__50692$fn__50695.invoke(dataset.clj:52)"
"query_processor.streaming$streaming_response_STAR_$fn__34128$fn__34129.invoke(streaming.clj:73)"
"query_processor.streaming$streaming_response_STAR_$fn__34128.invoke(streaming.clj:72)"
"async.streaming_response$do_f_STAR_.invokeStatic(streaming_response.clj:66)"
"async.streaming_response$do_f_STAR_.invoke(streaming_response.clj:64)"
"async.streaming_response$do_f_async$fn__23118.invoke(streaming_response.clj:85)"],
:context :ad-hoc,
:error "ERROR: canceling statement due to user request",
:row_count 0,
:running_time 0,
:preprocessed
{:type :query,
:query
{:source-table 2408,
:filter [:between [:datetime-field [:field-id 17511] :day] [:relative-datetime -30 :day] [:relative-datetime 0 :day]],
:fields
[[:field-id 17514]
[:field-id 17516]
[:datetime-field [:field-id 17511] :default]
[:field-id 17507]
[:field-id 17523]
[:field-id 17526]
[:field-id 17515]
[:field-id 17519]
[:field-id 17527]
[:field-id 17509]
[:field-id 17531]
[:field-id 17522]
[:field-id 17512]
[:field-id 17532]
[:field-id 17529]
[:field-id 17525]
[:datetime-field [:field-id 17518] :default]
[:field-id 17513]
[:field-id 17524]
[:field-id 17520]
[:field-id 17508]
[:field-id 17530]
[:field-id 17517]
[:field-id 17510]
[:field-id 17528]
[:datetime-field [:field-id 17521] :default]],
:limit 2000},
:database 9,
:middleware {:add-default-userland-constraints? true},
:info
{:executed-by 1,
:context :ad-hoc,
:nested? false,
:query-hash [-77, -37, 72, 42, -74, 75, 1, 102, 107, 33, -36, 113, 18, 58, -1, 48, 70, 21, -79, 42, 60, -38, 16, -93, -22, -86, -32, 34, -5, -63, -65, -127]},
:constraints {:max-results 10000, :max-results-bare-rows 2000}},
:data {:rows [], :cols []}}

[788388f5-ce08-4f97-82b5-bf407bf9992c] 2020-07-03T11:04:43+02:00 DEBUG metabase.middleware.log POST /api/dataset 202 [ASYNC: canceled] 5.0 mins (9 DB calls) App DB connections: 0/7 Jetty threads: 4/50 (2 idle, 0 queued) (127 total active threads) Queries in flight: 0 (0 queued)
What can we do to avoid it/sovle it? Cache was on too, but couldn't solve it. Thanks in advance