Hi,
This dashboard loads initially, but then after a few uses, it eventually stops loading with a screen like this: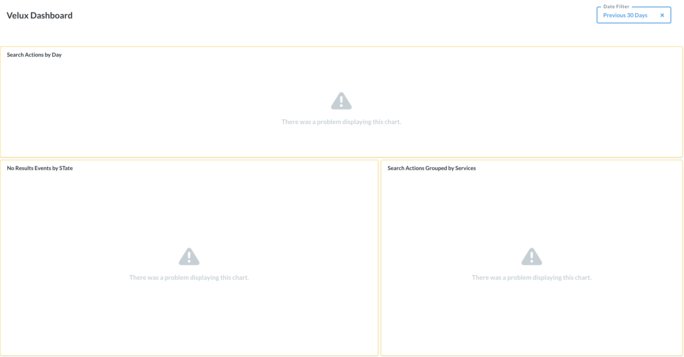 Notice the error in the chart, "There was a problem displaying this chart".
Other dashboards do not seem to have this problem. I broke this dashboard into two different dashboards, just to see if it was too big and the problem persists.
A few errors in the log like this:
200 185.0 ms (11 DB calls) App DB connections: 0/15 Jetty threads: 3/50 (4 idle, 0 queued) (70 total active threads) Queries in flight: 0 (0 queued)
[76b7cfd2-6728-4256-9762-bc91e2ff3dc3] 2020-10-06T15:01:58-05:00 DEBUG metabase.middleware.log GET /api/field/12731 401 242.5 µs (0 DB calls)
"Unauthenticated"
[76b7cfd2-6728-4256-9762-bc91e2ff3dc3] 2020-10-06T15:01:58-05:00 DEBUG metabase.middleware.log GET /api/embed/dashboard/eyJ0eXAiOiJKV1QiLCJhbGciOiJIUzI1NiJ9.eyJyZXNvdXJjZSI6eyJkYXNoYm9hcmQiOjExfSwicGFyYW1zIjp7InBhcmFtcyI6W119fQ.-5uN5xfEeZmqyHwJBg4B3Ya386CXayeVBvT9ZqF6cxU/dashcard/71/card/64 400 38.1 ms (2 DB calls)
"Unknown parameter :params."
[76b7cfd2-6728-4256-9762-bc91e2ff3dc3] 2020-10-06T15:01:58-05:00 DEBUG metabase.middleware.log GET /api/embed/dashboard/eyJ0eXAiOiJKV1QiLCJhbGciOiJIUzI1NiJ9.eyJyZXNvdXJjZSI6eyJkYXNoYm9hcmQiOjExfSwicGFyYW1zIjp7InBhcmFtcyI6W119fQ.-5uN5xfEeZmqyHwJBg4B3Ya386CXayeVBvT9ZqF6cxU/dashcard/69/card/63 400 18.9 ms (2 DB calls)
"Unknown parameter :params."
[76b7cfd2-6728-4256-9762-bc91e2ff3dc3] 2020-10-06T15:01:58-05:00 DEBUG metabase.middleware.log GET /api/embed/dashboard/eyJ0eXAiOiJKV1QiLCJhbGciOiJIUzI1NiJ9.eyJyZXNvdXJjZSI6eyJkYXNoYm9hcmQiOjExfSwicGFyYW1zIjp7InBhcmFtcyI6W119fQ.-5uN5xfEeZmqyHwJBg4B3Ya386CXayeVBvT9ZqF6cxU/field/12731/values 200 145.8 ms (5 DB calls) App DB connections: 0/15 Jetty threads: 3/50 (4 idle, 0 queued) (70 total active threads) Queries in flight: 0 (0 queued)
[76b7cfd2-6728-4256-9762-bc91e2ff3dc3] 2020-10-06T15:59:03-05:00 WARN metabase.middleware.log POST /api/jsonws/invoke 404 579.4 µs (0 DB calls)
"API endpoint does not exist."
[76b7cfd2-6728-4256-9762-bc91e2ff3dc3] 2020-10-06T16:00:00-05:00 INFO metabase.task.send-pulses Sending scheduled pulses…
[76b7cfd2-6728-4256-9762-bc91e2ff3dc3] 2020-10-06T16:25:45-05:00 DEBUG metabase.middleware.log GET /api/session/properties 200 1.2 ms (0 DB calls) App DB connections: 0/15 Jetty threads: 3/50 (4 idle, 0 queued) (67 total active threads) Queries in flight: 0 (0 queued)
[76b7cfd2-6728-4256-9762-bc91e2ff3dc3] 2020-10-06T16:25:46-05:00 DEBUG metabase.middleware.log GET /api/user/current 401 272.2 µs (0 DB calls)
"Unauthenticated"
[76b7cfd2-6728-4256-9762-bc91e2ff3dc3] 2020-10-06T17:00:00-05:00 INFO metabase.task.send-pulses Sending scheduled pulses…
[76b7cfd2-6728-4256-9762-bc91e2ff3dc3] 2020-10-06T18:00:00-05:00 INFO metabase.task.send-pulses Sending scheduled pulses…
[76b7cfd2-6728-4256-9762-bc91e2ff3dc3] 2020-10-06T18:01:48-05:00 WARN metabase.middleware.log POST /api/jsonws/invoke 404 347.9 µs (0 DB calls)
"API endpoint does not exist."
Diagnostic info as follows:
{
"browser-info": {
"language": "en-US",
"platform": "MacIntel",
"userAgent": "Mozilla/5.0 (Macintosh; Intel Mac OS X 10_13_6) AppleWebKit/537.36 (KHTML, like Gecko) Chrome/85.0.4183.121 Safari/537.36",
"vendor": "Google Inc."
},
"system-info": {
"file.encoding": "UTF-8",
"java.runtime.name": "OpenJDK Runtime Environment",
"java.runtime.version": "11.0.8+10",
"java.vendor": "AdoptOpenJDK",
"java.vendor.url": "https://adoptopenjdk.net/",
"java.version": "11.0.8",
"java.vm.name": "OpenJDK 64-Bit Server VM",
"java.vm.version": "11.0.8+10",
"os.name": "Linux",
"os.version": "4.14.67-66.56.amzn1.x86_64",
"user.language": "en",
"user.timezone": "GMT"
},
"metabase-info": {
"databases": [
"mysql"
],
"hosting-env": "elastic-beanstalk",
"application-database": "postgres",
"application-database-details": {
"database": {
"name": "PostgreSQL",
"version": "10.6"
},
"jdbc-driver": {
"name": "PostgreSQL JDBC Driver",
"version": "42.2.8"
}
},
"run-mode": "prod",
"version": {
"date": "2020-09-15",
"tag": "v0.36.6",
"branch": "release-0.36.x",
"hash": "cb258fb"
},
"settings": {
"report-timezone": "US/Mountain"
}
}
}