Keep getting Connections could not be acquired from the underlying database! among command line messages and front end when running questions.
Saved metabase.db.mv.db off to a folder for safekeeping before migrating from h2 to mysql. Changes to questions not being reflected in mysql so attempted a restore by saving off the modified metabase.db.mv.db file to another folder, deleting, copying back in the backup, and relaunching.
Upon call up and signing into the login on localhost:3000 noticed a set of odd command line outputs along the lines of Card 100 does not have cached read_permissions.
Admin permissions for questions cannot be changed either: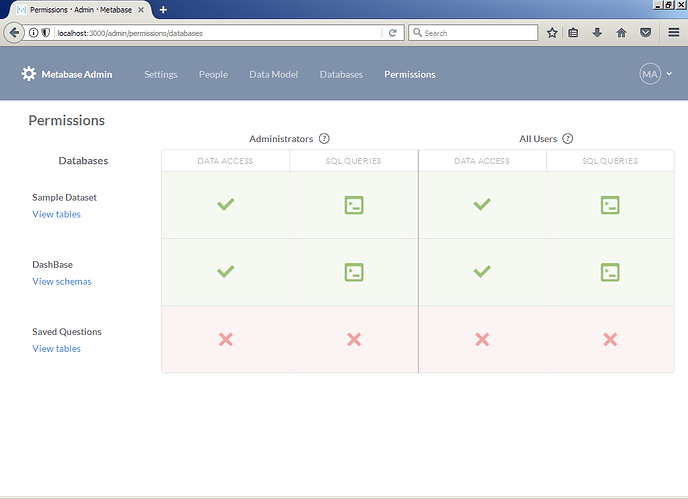 Couldn't put much more of the readout than what's below, this forum gets buggy with the rest.
Metabase: 0.29.2
Java: 1.8.0_45
Databases: H2 internal default, Server SQL external (joined in)
Host: Localhost:3000
OS: Microsoft Windows [Version 6.0.6002]
Browser: Firefox 52.8.0
from promt run as admin
c:\Program Files\Metabase>java -jar metabase.jar
05-23 14:38:47 ←[1mINFO metabase.util←[0m :: Loading Metabase...
05-23 14:39:00 ←[1mINFO util.encryption←[0m :: DB details encryption is DISABLED
for this Metabase instance.
See http://www.metabase.com/docs/latest/operations-guide/start.html#encrypting-y
our-database-connection-details-at-rest for more information.
java.io.FileNotFoundException: C:\Program%20Files\Metabase\metabase.jar (The sys
tem cannot find the path specified)
05-23 14:39:50 ←[1mINFO metabase.core←[0m :: Starting Metabase in STANDALONE mod
e
05-23 14:39:50 ←[1mINFO metabase.core←[0m :: Launching Embedded Jetty Webserver
with config:
{:port 3000}
05-23 14:39:51 ←[1mINFO metabase.core←[0m :: Starting Metabase version v0.29.2 (
db39083 release-0.29.2) ...
05-23 14:39:51 ←[1mINFO metabase.core←[0m :: System timezone is 'America/Los_Ang
eles' ...
05-23 14:39:59 ←[1mINFO metabase.core←[0m :: Setting up and migrating Metabase D
B. Please sit tight, this may take a minute...
05-23 14:39:59 ←[1mINFO metabase.db←[0m :: Verifying h2 Database Connection ...
05-23 14:40:01 ←[1mINFO metabase.db←[0m :: Verify Database Connection ...
05-23 14:40:01 ←[1mINFO metabase.db←[0m :: Running Database Migrations...
05-23 14:40:01 ←[1mINFO metabase.db←[0m :: Setting up Liquibase...
05-23 14:40:01 ←[1mINFO metabase.db←[0m :: Liquibase is ready.
05-23 14:40:01 ←[1mINFO metabase.db←[0m :: Checking if Database has unrun migrat
ions...
05-23 14:40:17 ←[1mINFO metabase.db←[0m :: Database Migrations Current ...
com.mchange.v2.cfg.DelayedLogItem [ level -> FINE, text -> "The configuration fi
le for resource identifier 'hocon:/reference,/application,/c3p0,/' could not be
found. Skipping.", exception -> null]
05-23 14:40:17 ←[1mINFO db.migrations←[0m :: Running all necessary data migratio
ns, this may take a minute.
05-23 14:40:17 ←[1mINFO db.migrations←[0m :: Finished running data migrations.
05-23 14:40:18 ←[1mINFO metabase.events←[0m :: Starting events listener: metabas
e.events.notifications
05-23 14:40:18 ←[1mINFO metabase.events←[0m :: Starting events listener: metabas
e.events.metabot-lifecycle
05-23 14:40:19 ←[1mINFO metabase.events←[0m :: Starting events listener: metabas
e.events.dependencies
05-23 14:40:19 ←[1mINFO metabase.events←[0m :: Starting events listener: metabas
e.events.activity-feed
05-23 14:40:19 ←[1mINFO metabase.events←[0m :: Starting events listener: metabas
e.events.last-login
05-23 14:40:19 ←[1mINFO metabase.events←[0m :: Starting events listener: metabas
e.events.revision
05-23 14:40:19 ←[1mINFO metabase.events←[0m :: Starting events listener: metabas
e.events.sync-database
05-23 14:40:19 ←[1mINFO metabase.events←[0m :: Starting events listener: metabas
e.events.view-log
05-23 14:40:19 ←[1mINFO metabase.events←[0m :: Starting events listener: metabas
e.events.driver-notifications
05-23 14:40:19 ←[1mINFO metabase.task←[0m :: Loading tasks namespace: metabase.t
ask.send-anonymous-stats
05-23 14:40:19 ←[1mINFO metabase.task←[0m :: Loading tasks namespace: metabase.t
ask.sync-databases
05-23 14:40:19 ←[1mINFO metabase.task←[0m :: Loading tasks namespace: metabase.t
ask.cleanup-temporary-computation-job-results
05-23 14:40:19 ←[1mINFO metabase.task←[0m :: Loading tasks namespace: metabase.t
ask.upgrade-checks
05-23 14:40:19 ←[1mINFO metabase.task←[0m :: Loading tasks namespace: metabase.t
ask.follow-up-emails
05-23 14:40:19 ←[1mINFO metabase.task←[0m :: Loading tasks namespace: metabase.t
ask.send-pulses
05-23 14:40:19 ←[1mINFO metabase.core←[0m :: Metabase Initialization COMPLETE