I initially setup my Metabase email account using a new Google Suite account I created for this usage.
Everything worked fine at first and I was able to send 2 invitations to my coworkers. They received the email and joined as expected, that was last week.
Today, I invited another teammate and he didn't get the email, after a while, I figured the "test email" feature wouldn't work and the whole email settings was broken. (It would be nice to get warned somehow, like displaying a message in the admin console)
And… I couldn't fix it so far. I don't know what happened, but somehow it now considers Metabase as a "Less secure apps", I got warning emails about it. Basically Google blocked connexion attempts.
I tried to allow "Less secure apps" but couldn't, something likely related to the fact we're using a low G Suite plan. (as far as I understood…)
I also tried to create a App password, but ran into the same issue (low plan).
So, I saw https://www.metabase.com/docs/v0.28.6/administration-guide/02-setting-up-email.html proposed Amazon SES. I wasn't using SES yet so I had to configure it and my tests work now (from SES), but when I try to use the SMTP login/password at https://metabase.studylink.fr/admin/settings/email, it fails.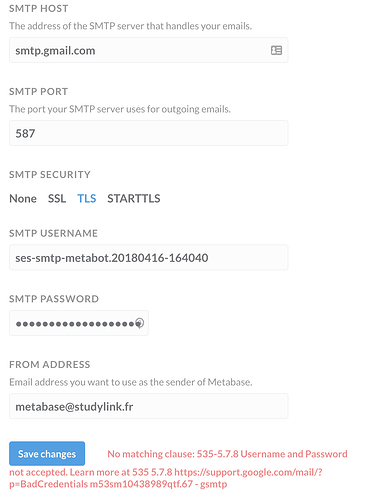 I'm unsure what protocol I should use but TLS seems to be the one to go, I tried STARTTLS as well but it failed too. (in the screenshot, I used the IAM account as SMTP username, but I also tried with the actual SMTP username and it doesn't work any better)
I don't understand why it's failing with the SES account since I configured the SES domain.
Do you have any advices regarding this issue? Thanks.