Hello, everyone! I've been spinning my wheels for awhile and would love some help! Basically, I have this table result:

The "Number of Buildings" column is a distinct count of a variable, BUILDING_ID, which is then grouped by country and asset type. The editor is here: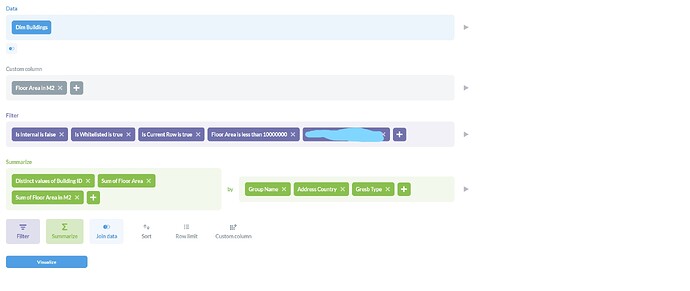 After the "Number of Buildings" column, I would like to add another column where each value is the percentage amount that the associated "Number of Buildings" value represents of the total grouping. In other words, I want my new column to be "Number of Buildings"/SUM("Number of Buildings")... I think that's right. In my screenshot, there are a total of 18 buildings across the rows - Hong Kong, with 6 buildings, should have a value of 33 in this new column, which is saying that those 6 buildings represent 33% of the 18 buildings in the grouping. How do I make this happen?