Hi,
We have problems of dashboards suddenly not loading at all (see screenshot 1:

), or being very long to load (see screenshot 2:

).
We don't know what happens exactly. We host Metabase 0.41.2 (current latest version) on AWS (set-up done following the official documentation.
We constantly run from 3 instances using AWS Beanstalk (that can scale to up to 10 based the target response time: if big, a new instance is added to help).
Here is a few hours window from our AWS Beanstalk monitoring (see screenshot 3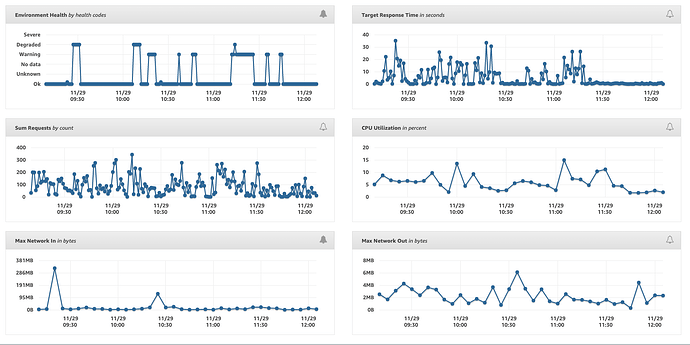 ). This screenshot is here to show you that the environment very often switches to "degraded" which is very bad. The target response time of the instances is the metrics you use to assess the health of the environment: we see that it has huge peaks regularly. The number of requests is a few hundreds during work days: we think that's not a crazy load. The Max Network In shows a huge peak during the morning: more than 286Mo: we don't really know why but it suggests there is a bottleneck related to the amount of data being received by the instances (due to the Metabase sync ? See our 2nd hypothesis below). Max Network Out is normal. Finally, the CPU of the instances is always low so no problem of compute power (vertical scale is ok).
We have 2 hypothesis but none of we tried solved the problem so far:
The number of simultaneous connexion on the Metabase database (AWS RDS Postgres database for us)
We then increased the number of connexions on this database but also, on our "data" database, the number of Jetty process. Here is the list of the environment parameters we increased from the default value to 100: MB_APPLICATION_DB_MAX_CONNECTION_POOL_SIZE (100), MB_JDBC_DATA_WAREHOUSE_MAX_CONNECTION_POOL_SIZE (100), MB_JETTY_MAXTHREADS (150).
We still have the "degraded" states though.

Metabase regularly syncs the databases to have the newest schemas, tables, columns and their data types. We think this sync may be related to the peak of 286Mo or so we see regularly in the Max Network In graph of our Beanstalk.
Additional information:
We use c5a.large, r5a.large for the instances.
Our Postgres RDS (Metabase database) is a db.r5.large. So, it's a huge configuration for such a small database but in order to increase the number of connexions, we had to increase the RAM so the instance class itself. It didn't help so much and we still have the latency problem.
Our "data" database is for now on Heroku (legacy: we killed the dynos but kept the database only): Standard-4 heroku-postgresql:standard-4 30 GB 768 GB 500.
For a few months, all worked pretty well but for a good 4 to 6 weeks we experience more and more latency issues (we do have more users, more big dashboards lately to run).
We think solving this problem requires more knowledge of how Metabase works and what it needs to reach an equilibrium between good performances / cost efficient and scale with the number connexions/users. Do you have an explanation, similar experience, recommendations, tests to share / suggest ?
Thanks a lot for your help,
Best regards,
Louis