Good afternoon!
I can't edit the series on the graph created earlier (before the Metabase update).
That is, I cannot delete and add a new graph to the series.
In the right list, there are no queries marked with ticks (as it was before the update).
Also in the right list there is no necessary query that I need to add to the series.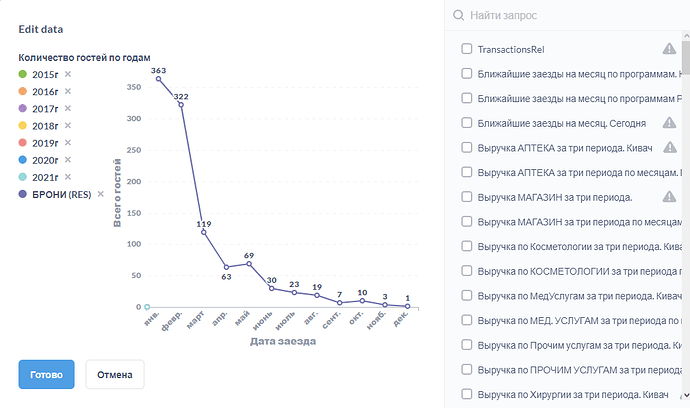 ---
{
"browser-info": {
"language": "ru-RU",
"platform": "Win32",
"userAgent": "Mozilla/5.0 (Windows NT 10.0; Win64; x64) AppleWebKit/537.36 (KHTML, like Gecko) Chrome/96.0.4664.93 Safari/537.36 OPR/82.0.4227.33",
"vendor": "Google Inc."
},
"system-info": {
"file.encoding": "UTF-8",
"java.runtime.name": "OpenJDK Runtime Environment",
"java.runtime.version": "11.0.13+8",
"java.vendor": "Eclipse Adoptium",
"java.vendor.url": "https://adoptium.net/",
"java.version": "11.0.13",
"java.vm.name": "OpenJDK 64-Bit Server VM",
"java.vm.version": "11.0.13+8",
"os.name": "Linux",
"os.version": "4.15.0-153-generic",
"user.language": "en",
"user.timezone": "GMT"
},
"metabase-info": {
"databases": [
"sqlserver"
],
"hosting-env": "unknown",
"application-database": "postgres",
"application-database-details": {
"database": {
"name": "PostgreSQL",
"version": "12.9 (Debian 12.9-1.pgdg110+1)"
},
"jdbc-driver": {
"name": "PostgreSQL JDBC Driver",
"version": "42.2.23"
}
},
"run-mode": "prod",
"version": {
"date": "2021-12-16",
"tag": "v0.41.5",
"branch": "release-x.41.x",
"hash": "fbfffc6"
},
"settings": {
"report-timezone": null
}
}
}