Hi,
Strange situation for us
Redshift User 1 connects to dbeaver and metabase fine
Redshift User 2 connects to dbeaver fine - but for metabase we get this error:
The authentication type 13 is not supported. Check that you have configured the pg_hba.conf file to include the client's IP address or subnet, and that it is using an authentication scheme supported by the driver.
Redshift User 1 is the main user that has access to everything, our Redshift User 2 only has permission to one schema & table (not sure if this matters).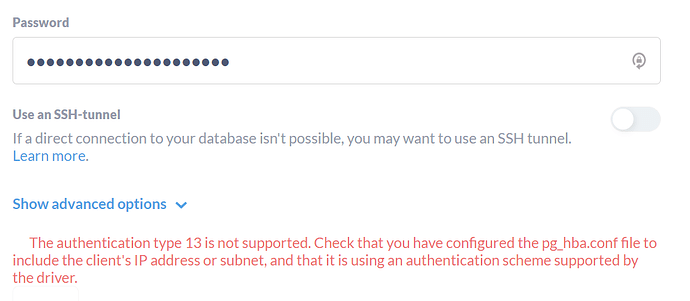 Wonderful if anyone has any suggestions on this?
Many thanks in advance.
Jaz
{
"browser-info": {
"language": "en-US",
"platform": "Win32",
"userAgent": "Mozilla/5.0 (Windows NT 10.0; Win64; x64) AppleWebKit/537.36 (KHTML, like Gecko) Chrome/103.0.0.0 Safari/537.36",
"vendor": "Google Inc."
},
"system-info": {
"file.encoding": "UTF-8",
"java.runtime.name": "OpenJDK Runtime Environment",
"java.runtime.version": "11.0.14.1+1",
"java.vendor": "Eclipse Adoptium",
"java.vendor.url": "https://adoptium.net/",
"java.version": "11.0.14.1",
"java.vm.name": "OpenJDK 64-Bit Server VM",
"java.vm.version": "11.0.14.1+1",
"os.name": "Linux",
"os.version": "5.13.0-1022-aws",
"user.language": "en",
"user.timezone": "GMT"
},
"metabase-info": {
"databases": [
"redshift",
"snowflake"
],
"hosting-env": "unknown",
"application-database": "mysql",
"application-database-details": {
"database": {
"name": "MySQL",
"version": "8.0.25"
},
"jdbc-driver": {
"name": "MariaDB Connector/J",
"version": "2.6.2"
}
},
"run-mode": "prod",
"version": {
"date": "2022-02-28",
"tag": "v0.42.2",
"branch": "release-x.42.x",
"hash": "d6ff494"
},
"settings": {
"report-timezone": "US/Eastern"
}
}
}