Hi!
We deployed Metabase on Heroku last year, but since last week, Metabase is really unstable, becoming unavailable at least 3 times a day.
We only have 1 database connected (Snowflake).
Actions we already tried:
Increase the Metabase memory from 2gb to 14gb.
Sync Snowflake database only 1x per day, at 2AM.
Increase the Snowflake auto-suspend time to 5 minutes
But the problem persists.
Important info: Heroku has 30 sec timeout by default, so, if a query/api call takes more than 30sec to execute, Heroku tries to cancel the request.
Question: This default 30s timeout from Heroku can prevent Metabase from operating normally?
Metabase logs while unavailable: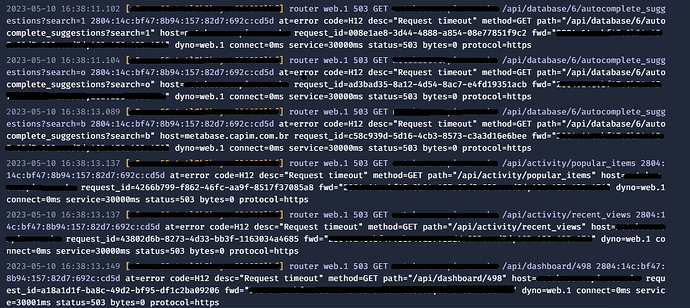 Metabase metrics while unavailable: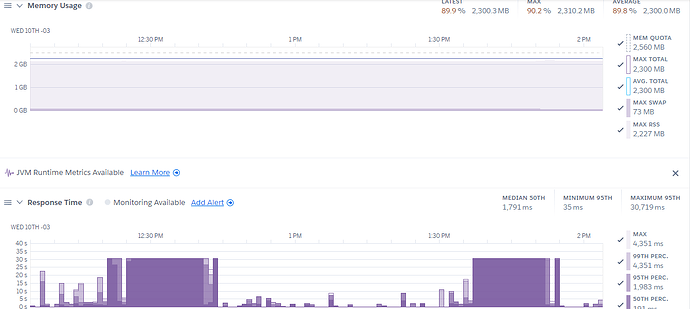 Metabase infos:
{
  "browser-info": {
    "language": "pt-BR",
    "platform": "Win32",
    "userAgent": "Mozilla/5.0 (Windows NT 10.0; Win64; x64) AppleWebKit/537.36 (KHTML, like Gecko) Chrome/112.0.0.0 Safari/537.36",
    "vendor": "Google Inc."
  },
  "system-info": {
    "file.encoding": "UTF-8",
    "java.runtime.name": "OpenJDK Runtime Environment",
    "java.runtime.version": "1.8.0_332-heroku-b09",
    "java.vendor": "Oracle Corporation",
    "java.vendor.url": "http://java.oracle.com/",
    "java.version": "1.8.0_332-heroku",
    "java.vm.name": "OpenJDK 64-Bit Server VM",
    "java.vm.version": "25.332-b09",
    "os.name": "Linux",
    "os.version": "4.4.0-1104-aws",
    "user.language": "en",
    "user.timezone": "America/Sao_Paulo"
  },
  "metabase-info": {
    "databases": [
      "snowflake"
    ],
    "hosting-env": "heroku",
    "application-database": "postgres",
    "application-database-details": {
      "database": {
        "name": "PostgreSQL",
        "version": "15.2 (Ubuntu 15.2-1.pgdg20.04+1)"
      },
      "jdbc-driver": {
        "name": "PostgreSQL JDBC Driver",
        "version": "42.3.2"
      }
    },
    "run-mode": "prod",
    "version": {
      "tag": "v0.43.4",
      "date": "2022-06-27",
      "branch": "release-x.43.x",
      "hash": "61cc28e"
    },
    "settings": {
      "report-timezone": "America/Sao_Paulo"
    }
  }
}