Observed in 0.38.0 and 0.40.1.
I currently have a public dashboard set up that includes several filters. I want users to be able to click a card on the dashboard and be taken to a public question with some filter values brought over.
This is currently achievable with Click Behavior, but it has some caveats.
I can set up the card to bring filters over to the question if I'm not using the public/shared version. This works well, and is what I will probably have to do in practice. However, I would rather not give users a login even if I restrict the login as much as possible.
I'd much rather send the user to the public version of the question. Now, before you say that I can already do this by using the Custom URL option, I have tried that. And it works. BUT only if each filter has one value.
If a text filter is given multiple values, then it's sent to the question as a comma separated list, which the question cannot understand. No results display.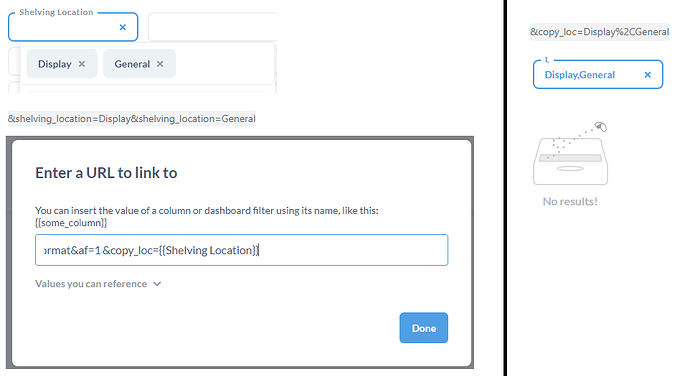 I think it has been said before, but it would be nice to have the Question/Dashboard destination default to the public/shared version if starting on a public/shared dashboard. Barring that, I would like the ability to bring up multiple value filters to a public question.