Hi!
I'm having a problem with only 1 user of metabase (for now) and in just 1 dashboard.
When he open the dashboard (that have a lot of questions, 20~30), he recive a memory error on chrome and Edge. When whe enter on the dashboard. Its show de questions loading, and after a few seconds, he got that memory error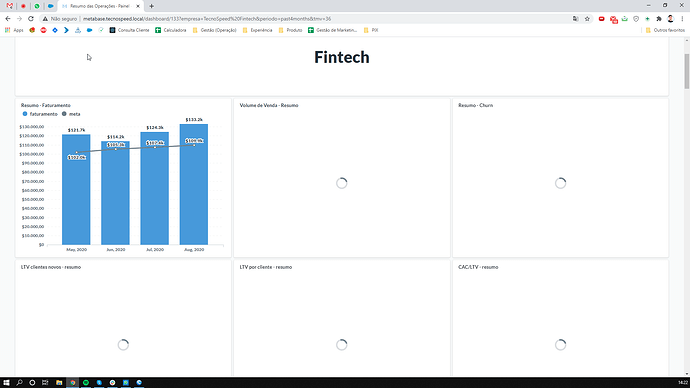 Tha strange part its that looks the problemn only occours when the filter is "Fintech" (a field filter value). When he try with another value, its works

I removed the most part of the questions, just for test, and the problem continues. Its like that second question got some error and blows up the dashboard.
We verify the memory on pc, and it was ok.
This is what show on log (its was alot other think, but this is the error I got. The log was pretty strange, some times don't show nothing to me)
[c61baa96-ad8d-4204-ae4a-bbda46d466f9] 2020-09-08T14:37:34-03:00 ERROR metabase.query-processor.middleware.catch-exceptions Erro ao processar a query: null
{:database_id 24,
:started_at #t "2020-09-08T14:37:29.996440-03:00[America/Sao_Paulo]",
:state "57014",
:json_query
{:constraints {:max-results 10000, :max-results-bare-rows 2000},
:type :native,
:middleware nil,
:native
{:query
"MY SQL WAS HERE",
:template-tags
{"id_empresa" {:id "234c2219-fd7d-90e3-f7eb-fcd105f95a7b", :name "id_empresa", :display-name "empresa", :type :dimension, :dimension [:field-id 17608], :widget-type :category, :required false},
"data_fechamento"
{:id "510ebf59-7b30-0e6b-f95e-dd05e389de2a",
:name "data_fechamento",
:display-name "mes fechamento",
:type :dimension,
:dimension [:field-id 12677],
:widget-type :date/all-options,
:required true,
:default "thisyear"},
"id_versao" {:id "3f036abe-7ac1-8792-363d-ac92a46f53c7", :name "id_versao", :display-name "Id versao", :type :text}}},
:database 24,
:parameters
[{:type "category", :target ["dimension" ["template-tag" "id_empresa"]], :value "TecnoSpeed Fintech"}
{:type "date/all-options", :target ["dimension" ["template-tag" "data_fechamento"]], :value "past4months"}],
:async? true,
:cache-ttl 16},
:status :failed,
:class org.postgresql.util.PSQLException,
:stacktrace
["org.postgresql.core.v3.QueryExecutorImpl.receiveErrorResponse(QueryExecutorImpl.java:2497)"
"org.postgresql.core.v3.QueryExecutorImpl.processResults(QueryExecutorImpl.java:2233)"
"org.postgresql.core.v3.QueryExecutorImpl.execute(QueryExecutorImpl.java:310)"
"org.postgresql.jdbc.PgStatement.executeInternal(PgStatement.java:446)"
"org.postgresql.jdbc.PgStatement.execute(PgStatement.java:370)"
"org.postgresql.jdbc.PgPreparedStatement.executeWithFlags(PgPreparedStatement.java:149)"
"org.postgresql.jdbc.PgPreparedStatement.executeQuery(PgPreparedStatement.java:108)"
"com.mchange.v2.c3p0.impl.NewProxyPreparedStatement.executeQuery(NewProxyPreparedStatement.java:431)"
"–> driver.sql_jdbc.execute$fn__72519.invokeStatic(execute.clj:267)"
"driver.sql_jdbc.execute$fn__72519.invoke(execute.clj:265)"
"driver.sql_jdbc.execute$execute_reducible_query.invokeStatic(execute.clj:389)"
"driver.sql_jdbc.execute$execute_reducible_query.invoke(execute.clj:377)"
"driver.sql_jdbc$fn__73834.invokeStatic(sql_jdbc.clj:49)"
"driver.sql_jdbc$fn__73834.invoke(sql_jdbc.clj:47)"
"query_processor.context$executef.invokeStatic(context.clj:59)"
"query_processor.context$executef.invoke(context.clj:48)"
"query_processor.context.default$default_runf.invokeStatic(default.clj:69)"
"query_processor.context.default$default_runf.invoke(default.clj:67)"
"query_processor.context$runf.invokeStatic(context.clj:45)"
"query_processor.context$runf.invoke(context.clj:39)"
"query_processor.reducible$pivot.invokeStatic(reducible.clj:34)"
"query_processor.reducible$pivot.invoke(reducible.clj:31)"
"query_processor.middleware.mbql_to_native$mbql__GT_native$fn__45532.invoke(mbql_to_native.clj:26)"
"query_processor.middleware.check_features$check_features$fn__44834.invoke(check_features.clj:42)"
"query_processor.middleware.optimize_datetime_filters$optimize_datetime_filters$fn__45697.invoke(optimize_datetime_filters.clj:133)"
"query_processor.middleware.wrap_value_literals$wrap_value_literals$fn__47225.invoke(wrap_value_literals.clj:137)"
"query_processor.middleware.annotate$add_column_info$fn__43455.invoke(annotate.clj:574)"
"query_processor.middleware.permissions$check_query_permissions$fn__44709.invoke(permissions.clj:64)"
"query_processor.middleware.pre_alias_aggregations$pre_alias_aggregations$fn__46215.invoke(pre_alias_aggregations.clj:40)"
"query_processor.middleware.cumulative_aggregations$handle_cumulative_aggregations$fn__44907.invoke(cumulative_aggregations.clj:61)"
"query_processor.middleware.resolve_joins$resolve_joins$fn__46747.invoke(resolve_joins.clj:183)"
"query_processor.middleware.add_implicit_joins$add_implicit_joins$fn__39185.invoke(add_implicit_joins.clj:245)"
"query_processor.middleware.limit$limit$fn__45518.invoke(limit.clj:38)"
"query_processor.middleware.format_rows$format_rows$fn__45499.invoke(format_rows.clj:81)"
"query_processor.middleware.desugar$desugar$fn__44973.invoke(desugar.clj:22)"
"query_processor.middleware.binning$update_binning_strategy$fn__43999.invoke(binning.clj:229)"
"query_processor.middleware.resolve_fields$resolve_fields$fn__44515.invoke(resolve_fields.clj:24)"
"query_processor.middleware.add_dimension_projections$add_remapping$fn__38734.invoke(add_dimension_projections.clj:270)"
"query_processor.middleware.add_implicit_clauses$add_implicit_clauses$fn__38941.invoke(add_implicit_clauses.clj:141)"
"query_processor.middleware.add_source_metadata$add_source_metadata_for_source_queries$fn__39334.invoke(add_source_metadata.clj:105)"
"query_processor.middleware.reconcile_breakout_and_order_by_bucketing$reconcile_breakout_and_order_by_bucketing$fn__46412.invoke(reconcile_breakout_and_order_by_bucketing.clj:98)"
"query_processor.middleware.auto_bucket_datetimes$auto_bucket_datetimes$fn__43640.invoke(auto_bucket_datetimes.clj:125)"
"query_processor.middleware.resolve_source_table$resolve_source_tables$fn__44562.invoke(resolve_source_table.clj:46)"
"query_processor.middleware.parameters$substitute_parameters$fn__46197.invoke(parameters.clj:114)"
"query_processor.middleware.resolve_referenced$resolve_referenced_card_resources$fn__44614.invoke(resolve_referenced.clj:80)"
"query_processor.middleware.expand_macros$expand_macros$fn__45229.invoke(expand_macros.clj:158)"
"query_processor.middleware.add_timezone_info$add_timezone_info$fn__39365.invoke(add_timezone_info.clj:15)"
"query_processor.middleware.splice_params_in_response$splice_params_in_response$fn__47109.invoke(splice_params_in_response.clj:32)"
"query_processor.middleware.resolve_database_and_driver$resolve_database_and_driver$fn__46423$fn__46427.invoke(resolve_database_and_driver.clj:33)"
"driver$do_with_driver.invokeStatic(driver.clj:61)"
"driver$do_with_driver.invoke(driver.clj:57)"
"query_processor.middleware.resolve_database_and_driver$resolve_database_and_driver$fn__46423.invoke(resolve_database_and_driver.clj:27)"
"query_processor.middleware.fetch_source_query$resolve_card_id_source_tables$fn__45447.invoke(fetch_source_query.clj:267)"
"query_processor.middleware.store$initialize_store$fn__47118$fn__47119.invoke(store.clj:11)"
"query_processor.store$do_with_store.invokeStatic(store.clj:46)"
"query_processor.store$do_with_store.invoke(store.clj:40)"
"query_processor.middleware.store$initialize_store$fn__47118.invoke(store.clj:10)"
"query_processor.middleware.cache$run_query_with_cache.invokeStatic(cache.clj:182)"
"query_processor.middleware.cache$run_query_with_cache.invoke(cache.clj:173)"
"query_processor.middleware.cache$maybe_return_cached_results$fn__44491.invoke(cache.clj:208)"
"query_processor.middleware.validate$validate_query$fn__47127.invoke(validate.clj:10)"
"query_processor.middleware.normalize_query$normalize$fn__45545.invoke(normalize_query.clj:22)"
"query_processor.middleware.add_rows_truncated$add_rows_truncated$fn__39203.invoke(add_rows_truncated.clj:36)"
"query_processor.middleware.results_metadata$record_and_return_metadata_BANG_$fn__47094.invoke(results_metadata.clj:147)"
"query_processor.middleware.constraints$add_default_userland_constraints$fn__44850.invoke(constraints.clj:42)"
"query_processor.middleware.process_userland_query$process_userland_query$fn__46286.invoke(process_userland_query.clj:136)"
"query_processor.middleware.catch_exceptions$catch_exceptions$fn__44793.invoke(catch_exceptions.clj:174)"
"query_processor.reducible$async_qp$qp_STAR___38013$thunk__38014.invoke(reducible.clj:101)"
"query_processor.reducible$async_qp$qp_STAR___38013$fn__38016.invoke(reducible.clj:106)"],
:context :question,
:error "ERROR: canceling statement due to user request",
:row_count 0,
:running_time 0,
:data {:rows [], :cols []}}