Hi!
I'm trying out Metabase for our organization. So far we did some reports here and there, mostly using R and ggplot tied together with rmarkdown. I'm quite impressed, it works really nicely, especially since I think it would take some work off me. And my boss loves it.
But when trying to reproduce some of my graphs that people found useful I'm missing one feature. In R/ggplot I can do facetting, ie. if I have data of this form (just some numbers):
| date | task | used | requested |
| --- | --- | --- | --- |
| 2019-12-12 | align_rna | 12 | 15 |
| 2019-12-12 | bcl2fastq_lane | 100 | 50 |
| 2019-12-13 | bio_bloom | 50 | 75 |
| 2020-01-01 | check | 24 | 48 |
| … | | | |
I can split the plots into separate graphs for each task. It'd look like this: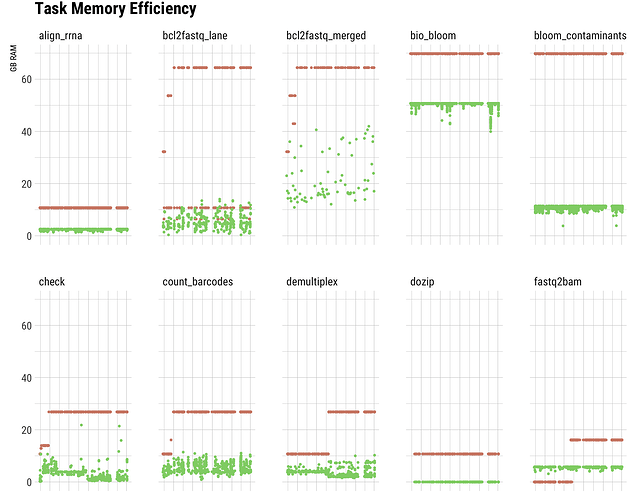 The only solution I found so far was to create different questions with filters for each task in turn and produce separate plots. This is not very satisfying, especially since we've got dozens of those. Also for example in this case the set of tasks is not fixed, so I would have to adapt the dashboard every time a new one turns up (or we no longer use a particular task). Multiply that by a few dashboards and it's no longer maintainable.
Am I missing something fairly obvious? Is there a way to do this with metabase? Or can I somehow add custom plots?
Thanks!
Heinz