After several tests I am able to reproduce this issue consistently. If you'd like to setup a remote troubleshooting session so I can reproduce the issue for you in real time, I'd be happy to do so. Steps to reproduce:
Login as a user with the client permissions
Click on the top 3 reports that the user sees when logged in
By the time you go to run the third report, it hangs. I've been able to recreate this 5x now. After each test I've rebooted the docker container
One thing to note: when logged in as the admin, I cannot recreate this issue.
Below are the logs and screenshot of the session status. The logs start after the container finished starting.
The line in the log that starts with "GET /api/dashboard/61" is the call to the third report.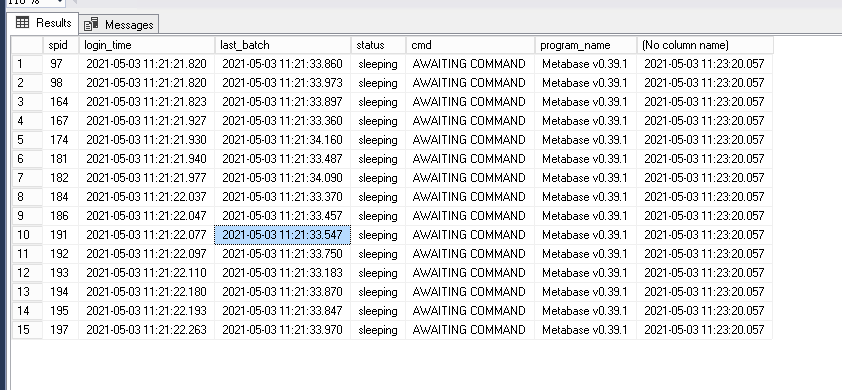 [eef4bde8-ab42-4b64-bf73-2fac6d7aed11] 2021-05-03T11:21:20-04:00 INFO metabase.driver.impl Registered driver :sqlserver (parents: [:sql-jdbc]) 🚚
[eef4bde8-ab42-4b64-bf73-2fac6d7aed11] 2021-05-03T11:21:21-04:00 DEBUG metabase.plugins.jdbc-proxy Registering JDBC proxy driver for com.microsoft.sqlserver.jdbc.SQLServerDriver...
[eef4bde8-ab42-4b64-bf73-2fac6d7aed11] 2021-05-03T11:21:23-04:00 DEBUG metabase.server.middleware.log POST /api/card/968/query 202 [ASYNC: completed] 3.9 s (12 DB calls) App DB connections: 1/15 Jetty threads: 2/50 (26 idle, 0 queued) (161 total active threads) Queries in flight: 39 (0 queued)
[eef4bde8-ab42-4b64-bf73-2fac6d7aed11] 2021-05-03T11:21:23-04:00 DEBUG metabase.server.middleware.log POST /api/card/989/query 202 [ASYNC: completed] 3.5 s (12 DB calls) App DB connections: 1/15 Jetty threads: 2/50 (26 idle, 0 queued) (161 total active threads) Queries in flight: 38 (0 queued)
[eef4bde8-ab42-4b64-bf73-2fac6d7aed11] 2021-05-03T11:21:23-04:00 DEBUG metabase.server.middleware.log POST /api/card/990/query 202 [ASYNC: completed] 3.7 s (12 DB calls) App DB connections: 4/15 Jetty threads: 2/50 (26 idle, 0 queued) (163 total active threads) Queries in flight: 38 (0 queued)
[eef4bde8-ab42-4b64-bf73-2fac6d7aed11] 2021-05-03T11:21:23-04:00 DEBUG metabase.server.middleware.log POST /api/card/982/query 202 [ASYNC: completed] 3.9 s (12 DB calls) App DB connections: 7/15 Jetty threads: 2/50 (26 idle, 0 queued) (163 total active threads) Queries in flight: 37 (0 queued)
[eef4bde8-ab42-4b64-bf73-2fac6d7aed11] 2021-05-03T11:21:23-04:00 DEBUG metabase.server.middleware.log POST /api/card/256/query 202 [ASYNC: completed] 4.2 s (12 DB calls) App DB connections: 5/15 Jetty threads: 2/50 (26 idle, 0 queued) (163 total active threads) Queries in flight: 36 (0 queued)
[eef4bde8-ab42-4b64-bf73-2fac6d7aed11] 2021-05-03T11:21:23-04:00 DEBUG metabase.server.middleware.log POST /api/card/984/query 202 [ASYNC: completed] 3.7 s (12 DB calls) App DB connections: 5/15 Jetty threads: 2/50 (26 idle, 0 queued) (163 total active threads) Queries in flight: 35 (0 queued)
[eef4bde8-ab42-4b64-bf73-2fac6d7aed11] 2021-05-03T11:21:23-04:00 DEBUG metabase.server.middleware.log POST /api/card/976/query 202 [ASYNC: completed] 4.0 s (12 DB calls) App DB connections: 4/15 Jetty threads: 2/50 (26 idle, 0 queued) (163 total active threads) Queries in flight: 34 (0 queued)
[eef4bde8-ab42-4b64-bf73-2fac6d7aed11] 2021-05-03T11:21:23-04:00 DEBUG metabase.server.middleware.log POST /api/card/974/query 202 [ASYNC: completed] 3.8 s (12 DB calls) App DB connections: 5/15 Jetty threads: 2/50 (26 idle, 0 queued) (163 total active threads) Queries in flight: 33 (0 queued)
[eef4bde8-ab42-4b64-bf73-2fac6d7aed11] 2021-05-03T11:21:23-04:00 DEBUG metabase.server.middleware.log POST /api/card/970/query 202 [ASYNC: completed] 3.7 s (12 DB calls) App DB connections: 4/15 Jetty threads: 2/50 (26 idle, 0 queued) (163 total active threads) Queries in flight: 32 (0 queued)
[eef4bde8-ab42-4b64-bf73-2fac6d7aed11] 2021-05-03T11:21:23-04:00 DEBUG metabase.server.middleware.log POST /api/card/992/query 202 [ASYNC: completed] 3.7 s (12 DB calls) App DB connections: 3/15 Jetty threads: 2/50 (26 idle, 0 queued) (163 total active threads) Queries in flight: 32 (0 queued)
[eef4bde8-ab42-4b64-bf73-2fac6d7aed11] 2021-05-03T11:21:23-04:00 DEBUG metabase.server.middleware.log POST /api/card/959/query 202 [ASYNC: completed] 4.2 s (12 DB calls) App DB connections: 4/15 Jetty threads: 2/50 (26 idle, 0 queued) (163 total active threads) Queries in flight: 31 (0 queued)
[eef4bde8-ab42-4b64-bf73-2fac6d7aed11] 2021-05-03T11:21:23-04:00 DEBUG metabase.server.middleware.log POST /api/card/975/query 202 [ASYNC: completed] 3.9 s (12 DB calls) App DB connections: 5/15 Jetty threads: 2/50 (26 idle, 0 queued) (163 total active threads) Queries in flight: 30 (0 queued)
[eef4bde8-ab42-4b64-bf73-2fac6d7aed11] 2021-05-03T11:21:23-04:00 DEBUG metabase.server.middleware.log POST /api/card/979/query 202 [ASYNC: completed] 3.9 s (12 DB calls) App DB connections: 5/15 Jetty threads: 2/50 (26 idle, 0 queued) (163 total active threads) Queries in flight: 29 (0 queued)
[eef4bde8-ab42-4b64-bf73-2fac6d7aed11] 2021-05-03T11:21:23-04:00 DEBUG metabase.server.middleware.log POST /api/card/418/query 202 [ASYNC: completed] 4.3 s (12 DB calls) App DB connections: 3/15 Jetty threads: 2/50 (26 idle, 0 queued) (163 total active threads) Queries in flight: 27 (0 queued)
[eef4bde8-ab42-4b64-bf73-2fac6d7aed11] 2021-05-03T11:21:23-04:00 DEBUG metabase.server.middleware.log POST /api/card/417/query 202 [ASYNC: completed] 4.3 s (12 DB calls) App DB connections: 3/15 Jetty threads: 2/50 (26 idle, 0 queued) (163 total active threads) Queries in flight: 25 (0 queued)
[eef4bde8-ab42-4b64-bf73-2fac6d7aed11] 2021-05-03T11:21:23-04:00 DEBUG metabase.server.middleware.log POST /api/card/981/query 202 [ASYNC: completed] 3.9 s (12 DB calls) App DB connections: 3/15 Jetty threads: 2/50 (26 idle, 0 queued) (163 total active threads) Queries in flight: 24 (0 queued)
[eef4bde8-ab42-4b64-bf73-2fac6d7aed11] 2021-05-03T11:21:23-04:00 DEBUG metabase.server.middleware.log POST /api/card/960/query 202 [ASYNC: completed] 4.3 s (12 DB calls) App DB connections: 4/15 Jetty threads: 2/50 (26 idle, 0 queued) (163 total active threads) Queries in flight: 24 (0 queued)
[eef4bde8-ab42-4b64-bf73-2fac6d7aed11] 2021-05-03T11:21:23-04:00 DEBUG metabase.server.middleware.log POST /api/card/967/query 202 [ASYNC: completed] 4.2 s (12 DB calls) App DB connections: 3/15 Jetty threads: 2/50 (26 idle, 0 queued) (163 total active threads) Queries in flight: 22 (0 queued)
[eef4bde8-ab42-4b64-bf73-2fac6d7aed11] 2021-05-03T11:21:23-04:00 DEBUG metabase.server.middleware.log POST /api/card/972/query 202 [ASYNC: completed] 4.0 s (12 DB calls) App DB connections: 1/15 Jetty threads: 2/50 (26 idle, 0 queued) (163 total active threads) Queries in flight: 21 (0 queued)
[eef4bde8-ab42-4b64-bf73-2fac6d7aed11] 2021-05-03T11:21:24-04:00 DEBUG metabase.server.middleware.log POST /api/card/983/query 202 [ASYNC: completed] 4.1 s (12 DB calls) App DB connections: 1/15 Jetty threads: 2/50 (26 idle, 0 queued) (163 total active threads) Queries in flight: 21 (0 queued)
[eef4bde8-ab42-4b64-bf73-2fac6d7aed11] 2021-05-03T11:21:24-04:00 DEBUG metabase.server.middleware.log POST /api/card/986/query 202 [ASYNC: completed] 3.9 s (12 DB calls) App DB connections: 2/15 Jetty threads: 2/50 (26 idle, 0 queued) (163 total active threads) Queries in flight: 19 (0 queued)
[eef4bde8-ab42-4b64-bf73-2fac6d7aed11] 2021-05-03T11:21:24-04:00 DEBUG metabase.server.middleware.log POST /api/card/988/query 202 [ASYNC: completed] 3.9 s (12 DB calls) App DB connections: 4/15 Jetty threads: 2/50 (26 idle, 0 queued) (163 total active threads) Queries in flight: 19 (0 queued)
[eef4bde8-ab42-4b64-bf73-2fac6d7aed11] 2021-05-03T11:21:24-04:00 DEBUG metabase.server.middleware.log POST /api/card/971/query 202 [ASYNC: completed] 4.0 s (12 DB calls) App DB connections: 4/15 Jetty threads: 2/50 (26 idle, 0 queued) (163 total active threads) Queries in flight: 18 (0 queued)
[eef4bde8-ab42-4b64-bf73-2fac6d7aed11] 2021-05-03T11:21:24-04:00 DEBUG metabase.server.middleware.log POST /api/card/964/query 202 [ASYNC: completed] 4.3 s (12 DB calls) App DB connections: 5/15 Jetty threads: 2/50 (26 idle, 0 queued) (163 total active threads) Queries in flight: 17 (0 queued)
[eef4bde8-ab42-4b64-bf73-2fac6d7aed11] 2021-05-03T11:21:24-04:00 DEBUG metabase.server.middleware.log POST /api/card/961/query 202 [ASYNC: completed] 4.2 s (12 DB calls) App DB connections: 7/15 Jetty threads: 2/50 (26 idle, 0 queued) (163 total active threads) Queries in flight: 17 (0 queued)
[eef4bde8-ab42-4b64-bf73-2fac6d7aed11] 2021-05-03T11:21:24-04:00 DEBUG metabase.server.middleware.log POST /api/card/980/query 202 [ASYNC: completed] 4.2 s (12 DB calls) App DB connections: 6/15 Jetty threads: 2/50 (26 idle, 0 queued) (163 total active threads) Queries in flight: 17 (0 queued)
[eef4bde8-ab42-4b64-bf73-2fac6d7aed11] 2021-05-03T11:21:24-04:00 DEBUG metabase.server.middleware.log POST /api/card/978/query 202 [ASYNC: completed] 4.2 s (12 DB calls) App DB connections: 6/15 Jetty threads: 2/50 (26 idle, 0 queued) (163 total active threads) Queries in flight: 17 (0 queued)
[eef4bde8-ab42-4b64-bf73-2fac6d7aed11] 2021-05-03T11:21:24-04:00 DEBUG metabase.server.middleware.log POST /api/card/965/query 202 [ASYNC: completed] 4.4 s (12 DB calls) App DB connections: 7/15 Jetty threads: 2/50 (26 idle, 0 queued) (163 total active threads) Queries in flight: 15 (0 queued)
[eef4bde8-ab42-4b64-bf73-2fac6d7aed11] 2021-05-03T11:21:24-04:00 DEBUG metabase.server.middleware.log POST /api/card/991/query 202 [ASYNC: completed] 4.2 s (12 DB calls) App DB connections: 7/15 Jetty threads: 2/50 (26 idle, 0 queued) (163 total active threads) Queries in flight: 15 (0 queued)
[eef4bde8-ab42-4b64-bf73-2fac6d7aed11] 2021-05-03T11:21:24-04:00 DEBUG metabase.server.middleware.log POST /api/card/969/query 202 [ASYNC: completed] 4.1 s (12 DB calls) App DB connections: 4/15 Jetty threads: 2/50 (26 idle, 0 queued) (163 total active threads) Queries in flight: 14 (0 queued)
[eef4bde8-ab42-4b64-bf73-2fac6d7aed11] 2021-05-03T11:21:24-04:00 DEBUG metabase.server.middleware.log POST /api/card/963/query 202 [ASYNC: completed] 4.3 s (12 DB calls) App DB connections: 3/15 Jetty threads: 2/50 (26 idle, 0 queued) (163 total active threads) Queries in flight: 12 (0 queued)
[eef4bde8-ab42-4b64-bf73-2fac6d7aed11] 2021-05-03T11:21:24-04:00 DEBUG metabase.server.middleware.log POST /api/card/985/query 202 [ASYNC: completed] 4.3 s (12 DB calls) App DB connections: 5/15 Jetty threads: 2/50 (26 idle, 0 queued) (163 total active threads) Queries in flight: 10 (0 queued)
[eef4bde8-ab42-4b64-bf73-2fac6d7aed11] 2021-05-03T11:21:24-04:00 DEBUG metabase.server.middleware.log POST /api/card/977/query 202 [ASYNC: completed] 4.4 s (12 DB calls) App DB connections: 6/15 Jetty threads: 2/50 (26 idle, 0 queued) (163 total active threads) Queries in flight: 10 (0 queued)
[eef4bde8-ab42-4b64-bf73-2fac6d7aed11] 2021-05-03T11:21:24-04:00 DEBUG metabase.server.middleware.log POST /api/card/966/query 202 [ASYNC: completed] 4.3 s (12 DB calls) App DB connections: 4/15 Jetty threads: 2/50 (26 idle, 0 queued) (163 total active threads) Queries in flight: 10 (0 queued)
[eef4bde8-ab42-4b64-bf73-2fac6d7aed11] 2021-05-03T11:21:24-04:00 DEBUG metabase.server.middleware.log POST /api/card/987/query 202 [ASYNC: completed] 4.3 s (12 DB calls) App DB connections: 4/15 Jetty threads: 2/50 (26 idle, 0 queued) (163 total active threads) Queries in flight: 10 (0 queued)
[eef4bde8-ab42-4b64-bf73-2fac6d7aed11] 2021-05-03T11:21:24-04:00 DEBUG metabase.server.middleware.log POST /api/card/958/query 202 [ASYNC: completed] 4.7 s (12 DB calls) App DB connections: 3/15 Jetty threads: 2/50 (26 idle, 0 queued) (163 total active threads) Queries in flight: 4 (0 queued)
[eef4bde8-ab42-4b64-bf73-2fac6d7aed11] 2021-05-03T11:21:24-04:00 DEBUG metabase.server.middleware.log POST /api/card/973/query 202 [ASYNC: completed] 4.3 s (12 DB calls) App DB connections: 2/15 Jetty threads: 2/50 (26 idle, 0 queued) (163 total active threads) Queries in flight: 3 (0 queued)
[eef4bde8-ab42-4b64-bf73-2fac6d7aed11] 2021-05-03T11:21:24-04:00 DEBUG metabase.server.middleware.log POST /api/card/962/query 202 [ASYNC: completed] 4.3 s (12 DB calls) App DB connections: 2/15 Jetty threads: 2/50 (26 idle, 0 queued) (163 total active threads) Queries in flight: 2 (0 queued)
[eef4bde8-ab42-4b64-bf73-2fac6d7aed11] 2021-05-03T11:21:24-04:00 DEBUG metabase.server.middleware.log POST /api/card/957/query 202 [ASYNC: completed] 4.7 s (12 DB calls) App DB connections: 2/15 Jetty threads: 2/50 (26 idle, 0 queued) (163 total active threads) Queries in flight: 1 (0 queued)
[eef4bde8-ab42-4b64-bf73-2fac6d7aed11] 2021-05-03T11:21:24-04:00 DEBUG metabase.server.middleware.log POST /api/card/993/query 202 [ASYNC: completed] 4.3 s (12 DB calls) App DB connections: 1/15 Jetty threads: 2/50 (26 idle, 0 queued) (163 total active threads) Queries in flight: 0 (0 queued)
[eef4bde8-ab42-4b64-bf73-2fac6d7aed11] 2021-05-03T11:21:31-04:00 DEBUG metabase.server.middleware.log GET /api/collection/7 200 7.5 ms (3 DB calls) App DB connections: 0/15 Jetty threads: 3/50 (26 idle, 0 queued) (163 total active threads) Queries in flight: 0 (0 queued)
[eef4bde8-ab42-4b64-bf73-2fac6d7aed11] 2021-05-03T11:21:32-04:00 DEBUG metabase.server.middleware.log GET /api/dashboard/46 200 152.4 ms (37 DB calls) App DB connections: 1/15 Jetty threads: 3/50 (25 idle, 0 queued) (163 total active threads) Queries in flight: 0 (0 queued)
[eef4bde8-ab42-4b64-bf73-2fac6d7aed11] 2021-05-03T11:21:33-04:00 DEBUG metabase.server.middleware.log POST /api/card/924/query 202 [ASYNC: completed] 697.8 ms (17 DB calls) App DB connections: 1/15 Jetty threads: 2/50 (26 idle, 0 queued) (173 total active threads) Queries in flight: 19 (0 queued)
[eef4bde8-ab42-4b64-bf73-2fac6d7aed11] 2021-05-03T11:21:34-04:00 DEBUG metabase.server.middleware.log POST /api/card/490/query 202 [ASYNC: completed] 1.0 s (16 DB calls) App DB connections: 1/15 Jetty threads: 2/50 (26 idle, 0 queued) (173 total active threads) Queries in flight: 18 (0 queued)
[eef4bde8-ab42-4b64-bf73-2fac6d7aed11] 2021-05-03T11:21:34-04:00 DEBUG metabase.server.middleware.log POST /api/card/391/query 202 [ASYNC: completed] 1.1 s (12 DB calls) App DB connections: 1/15 Jetty threads: 2/50 (26 idle, 0 queued) (173 total active threads) Queries in flight: 17 (0 queued)
[eef4bde8-ab42-4b64-bf73-2fac6d7aed11] 2021-05-03T11:21:34-04:00 DEBUG metabase.server.middleware.log POST /api/card/390/query 202 [ASYNC: completed] 1.1 s (12 DB calls) App DB connections: 1/15 Jetty threads: 2/50 (26 idle, 0 queued) (173 total active threads) Queries in flight: 16 (0 queued)
[eef4bde8-ab42-4b64-bf73-2fac6d7aed11] 2021-05-03T11:21:34-04:00 DEBUG metabase.server.middleware.log POST /api/card/489/query 202 [ASYNC: completed] 1.3 s (16 DB calls) App DB connections: 1/15 Jetty threads: 2/50 (26 idle, 0 queued) (173 total active threads) Queries in flight: 15 (0 queued)
[eef4bde8-ab42-4b64-bf73-2fac6d7aed11] 2021-05-03T11:21:37-04:00 DEBUG metabase.server.middleware.log GET /api/collection/7 200 6.2 ms (3 DB calls) App DB connections: 0/15 Jetty threads: 3/50 (26 idle, 0 queued) (173 total active threads) Queries in flight: 15 (0 queued)
[eef4bde8-ab42-4b64-bf73-2fac6d7aed11] 2021-05-03T11:21:39-04:00 DEBUG metabase.server.middleware.log POST /api/card/pivot/1015/query 202 [ASYNC: canceled] 6.1 s (21 DB calls) App DB connections: 0/15 Jetty threads: 2/50 (26 idle, 0 queued) (173 total active threads) Queries in flight: 14 (0 queued)
[eef4bde8-ab42-4b64-bf73-2fac6d7aed11] 2021-05-03T11:21:39-04:00 DEBUG metabase.server.middleware.log POST /api/card/pivot/1034/query 202 [ASYNC: canceled] 6.1 s (21 DB calls) App DB connections: 0/15 Jetty threads: 3/50 (26 idle, 0 queued) (173 total active threads) Queries in flight: 13 (0 queued)
[eef4bde8-ab42-4b64-bf73-2fac6d7aed11] 2021-05-03T11:21:39-04:00 DEBUG metabase.server.middleware.log POST /api/card/pivot/1038/query 202 [ASYNC: canceled] 6.1 s (21 DB calls) App DB connections: 0/15 Jetty threads: 2/50 (26 idle, 0 queued) (173 total active threads) Queries in flight: 12 (0 queued)
[eef4bde8-ab42-4b64-bf73-2fac6d7aed11] 2021-05-03T11:21:39-04:00 DEBUG metabase.server.middleware.log POST /api/card/pivot/1040/query 202 [ASYNC: canceled] 6.1 s (21 DB calls) App DB connections: 0/15 Jetty threads: 2/50 (26 idle, 0 queued) (173 total active threads) Queries in flight: 11 (0 queued)
[eef4bde8-ab42-4b64-bf73-2fac6d7aed11] 2021-05-03T11:21:39-04:00 DEBUG metabase.server.middleware.log POST /api/card/pivot/1036/query 202 [ASYNC: canceled] 6.1 s (21 DB calls) App DB connections: 0/15 Jetty threads: 2/50 (26 idle, 0 queued) (173 total active threads) Queries in flight: 11 (0 queued)
[eef4bde8-ab42-4b64-bf73-2fac6d7aed11] 2021-05-03T11:21:39-04:00 DEBUG metabase.server.middleware.log POST /api/card/pivot/1032/query 202 [ASYNC: canceled] 6.1 s (21 DB calls) App DB connections: 0/15 Jetty threads: 2/50 (26 idle, 0 queued) (173 total active threads) Queries in flight: 11 (0 queued)
[eef4bde8-ab42-4b64-bf73-2fac6d7aed11] 2021-05-03T11:21:39-04:00 DEBUG metabase.server.middleware.log POST /api/card/pivot/1017/query 202 [ASYNC: canceled] 6.1 s (21 DB calls) App DB connections: 0/15 Jetty threads: 2/50 (26 idle, 0 queued) (173 total active threads) Queries in flight: 8 (0 queued)
[eef4bde8-ab42-4b64-bf73-2fac6d7aed11] 2021-05-03T11:21:39-04:00 DEBUG metabase.server.middleware.log POST /api/card/pivot/1031/query 202 [ASYNC: canceled] 6.1 s (21 DB calls) App DB connections: 0/15 Jetty threads: 2/50 (26 idle, 0 queued) (173 total active threads) Queries in flight: 7 (0 queued)
[eef4bde8-ab42-4b64-bf73-2fac6d7aed11] 2021-05-03T11:21:39-04:00 DEBUG metabase.server.middleware.log POST /api/card/pivot/1039/query 202 [ASYNC: canceled] 6.1 s (21 DB calls) App DB connections: 0/15 Jetty threads: 2/50 (26 idle, 0 queued) (173 total active threads) Queries in flight: 6 (0 queued)
[eef4bde8-ab42-4b64-bf73-2fac6d7aed11] 2021-05-03T11:21:39-04:00 DEBUG metabase.server.middleware.log POST /api/card/pivot/1030/query 202 [ASYNC: canceled] 6.1 s (21 DB calls) App DB connections: 0/15 Jetty threads: 4/50 (25 idle, 0 queued) (173 total active threads) Queries in flight: 6 (0 queued)
[eef4bde8-ab42-4b64-bf73-2fac6d7aed11] 2021-05-03T11:21:39-04:00 DEBUG metabase.server.middleware.log POST /api/card/pivot/1045/query 202 [ASYNC: canceled] 6.1 s (21 DB calls) App DB connections: 0/15 Jetty threads: 2/50 (26 idle, 0 queued) (173 total active threads) Queries in flight: 5 (0 queued)
[eef4bde8-ab42-4b64-bf73-2fac6d7aed11] 2021-05-03T11:21:39-04:00 DEBUG metabase.server.middleware.log POST /api/card/pivot/926/query 202 [ASYNC: canceled] 6.2 s (22 DB calls) App DB connections: 0/15 Jetty threads: 2/50 (26 idle, 0 queued) (173 total active threads) Queries in flight: 3 (0 queued)
[eef4bde8-ab42-4b64-bf73-2fac6d7aed11] 2021-05-03T11:21:39-04:00 DEBUG metabase.server.middleware.log POST /api/card/pivot/1016/query 202 [ASYNC: canceled] 6.2 s (21 DB calls) App DB connections: 0/15 Jetty threads: 2/50 (26 idle, 0 queued) (173 total active threads) Queries in flight: 1 (0 queued)
[eef4bde8-ab42-4b64-bf73-2fac6d7aed11] 2021-05-03T11:21:39-04:00 DEBUG metabase.server.middleware.log POST /api/card/pivot/1037/query 202 [ASYNC: canceled] 6.1 s (22 DB calls) App DB connections: 0/15 Jetty threads: 2/50 (26 idle, 0 queued) (173 total active threads) Queries in flight: 2 (0 queued)
[eef4bde8-ab42-4b64-bf73-2fac6d7aed11] 2021-05-03T11:21:39-04:00 DEBUG metabase.server.middleware.log POST /api/card/pivot/1033/query 202 [ASYNC: canceled] 6.2 s (21 DB calls) App DB connections: 0/15 Jetty threads: 2/50 (26 idle, 0 queued) (173 total active threads) Queries in flight: 1 (0 queued)
[eef4bde8-ab42-4b64-bf73-2fac6d7aed11] 2021-05-03T11:21:40-04:00 DEBUG metabase.server.middleware.log GET /api/dashboard/61 200 146.7 ms (43 DB calls) App DB connections: 0/15 Jetty threads: 3/50 (25 idle, 0 queued) (173 total active threads) Queries in flight: 0 (0 queued)
[eef4bde8-ab42-4b64-bf73-2fac6d7aed11] 2021-05-03T11:21:43-04:00 DEBUG metabase.server.middleware.log GET /api/database/2/schemas 200 20.7 ms (5 DB calls) App DB connections: 0/15 Jetty threads: 3/50 (26 idle, 0 queued) (173 total active threads) Queries in flight: 23 (0 queued)
[eef4bde8-ab42-4b64-bf73-2fac6d7aed11] 2021-05-03T11:21:52-04:00 DEBUG metabase.server.middleware.log GET /api/collection/7 200 5.6 ms (3 DB calls) App DB connections: 0/15 Jetty threads: 3/50 (26 idle, 0 queued) (173 total active threads) Queries in flight: 23 (0 queued)
[eef4bde8-ab42-4b64-bf73-2fac6d7aed11] 2021-05-03T11:21:54-04:00 DEBUG metabase.server.middleware.log POST /api/card/923/query 202 [ASYNC: canceled] 14.0 s (9 DB calls) App DB connections: 0/15 Jetty threads: 2/50 (26 idle, 0 queued) (173 total active threads) Queries in flight: 23 (0 queued)
[eef4bde8-ab42-4b64-bf73-2fac6d7aed11] 2021-05-03T11:21:54-04:00 DEBUG metabase.server.middleware.log POST /api/card/606/query 202 [ASYNC: canceled] 14.0 s (9 DB calls) App DB connections: 0/15 Jetty threads: 2/50 (26 idle, 0 queued) (173 total active threads) Queries in flight: 22 (0 queued)
[eef4bde8-ab42-4b64-bf73-2fac6d7aed11] 2021-05-03T11:21:54-04:00 DEBUG metabase.server.middleware.log POST /api/card/911/query 202 [ASYNC: canceled] 14.0 s (9 DB calls) App DB connections: 0/15 Jetty threads: 2/50 (26 idle, 0 queued) (173 total active threads) Queries in flight: 21 (0 queued)
[eef4bde8-ab42-4b64-bf73-2fac6d7aed11] 2021-05-03T11:21:54-04:00 DEBUG metabase.server.middleware.log POST /api/card/609/query 202 [ASYNC: canceled] 14.1 s (9 DB calls) App DB connections: 0/15 Jetty threads: 2/50 (26 idle, 0 queued) (173 total active threads) Queries in flight: 19 (0 queued)
[eef4bde8-ab42-4b64-bf73-2fac6d7aed11] 2021-05-03T11:21:54-04:00 DEBUG metabase.server.middleware.log POST /api/card/392/query 202 [ASYNC: canceled] 14.1 s (7 DB calls) App DB connections: 0/15 Jetty threads: 2/50 (26 idle, 0 queued) (173 total active threads) Queries in flight: 16 (0 queued)
[eef4bde8-ab42-4b64-bf73-2fac6d7aed11] 2021-05-03T11:21:54-04:00 DEBUG metabase.server.middleware.log POST /api/card/900/query 202 [ASYNC: canceled] 14.1 s (8 DB calls) App DB connections: 0/15 Jetty threads: 2/50 (26 idle, 0 queued) (173 total active threads) Queries in flight: 16 (0 queued)
[eef4bde8-ab42-4b64-bf73-2fac6d7aed11] 2021-05-03T11:21:54-04:00 DEBUG metabase.server.middleware.log POST /api/card/908/query 202 [ASYNC: canceled] 14.1 s (9 DB calls) App DB connections: 0/15 Jetty threads: 3/50 (25 idle, 0 queued) (173 total active threads) Queries in flight: 15 (0 queued)
[eef4bde8-ab42-4b64-bf73-2fac6d7aed11] 2021-05-03T11:21:54-04:00 DEBUG metabase.server.middleware.log POST /api/card/920/query 202 [ASYNC: canceled] 14.1 s (8 DB calls) App DB connections: 0/15 Jetty threads: 2/50 (26 idle, 0 queued) (173 total active threads) Queries in flight: 16 (0 queued)
[eef4bde8-ab42-4b64-bf73-2fac6d7aed11] 2021-05-03T11:21:54-04:00 DEBUG metabase.server.middleware.log POST /api/card/1043/query 202 [ASYNC: canceled] 14.1 s (7 DB calls) App DB connections: 0/15 Jetty threads: 3/50 (26 idle, 0 queued) (173 total active threads) Queries in flight: 14 (0 queued)
[eef4bde8-ab42-4b64-bf73-2fac6d7aed11] 2021-05-03T11:21:54-04:00 DEBUG metabase.server.middleware.log POST /api/card/610/query 202 [ASYNC: canceled] 14.1 s (9 DB calls) App DB connections: 0/15 Jetty threads: 3/50 (26 idle, 0 queued) (173 total active threads) Queries in flight: 13 (0 queued)
[eef4bde8-ab42-4b64-bf73-2fac6d7aed11] 2021-05-03T11:21:54-04:00 DEBUG metabase.server.middleware.log POST /api/card/591/query 202 [ASYNC: canceled] 14.1 s (9 DB calls) App DB connections: 0/15 Jetty threads: 3/50 (26 idle, 0 queued) (173 total active threads) Queries in flight: 12 (0 queued)
[eef4bde8-ab42-4b64-bf73-2fac6d7aed11] 2021-05-03T11:21:54-04:00 DEBUG metabase.server.middleware.log POST /api/card/910/query 202 [ASYNC: canceled] 14.1 s (9 DB calls) App DB connections: 0/15 Jetty threads: 3/50 (25 idle, 0 queued) (173 total active threads) Queries in flight: 11 (0 queued)
[eef4bde8-ab42-4b64-bf73-2fac6d7aed11] 2021-05-03T11:21:54-04:00 DEBUG metabase.server.middleware.log POST /api/card/1042/query 202 [ASYNC: canceled] 14.1 s (7 DB calls) App DB connections: 0/15 Jetty threads: 3/50 (26 idle, 0 queued) (173 total active threads) Queries in flight: 10 (0 queued)
[eef4bde8-ab42-4b64-bf73-2fac6d7aed11] 2021-05-03T11:21:54-04:00 DEBUG metabase.server.middleware.log POST /api/card/613/query 202 [ASYNC: canceled] 14.1 s (9 DB calls) App DB connections: 0/15 Jetty threads: 3/50 (26 idle, 0 queued) (173 total active threads) Queries in flight: 9 (0 queued)
[eef4bde8-ab42-4b64-bf73-2fac6d7aed11] 2021-05-03T11:21:54-04:00 DEBUG metabase.server.middleware.log POST /api/card/909/query 202 [ASYNC: canceled] 14.1 s (9 DB calls) App DB connections: 0/15 Jetty threads: 2/50 (26 idle, 0 queued) (173 total active threads) Queries in flight: 8 (0 queued)
[eef4bde8-ab42-4b64-bf73-2fac6d7aed11] 2021-05-03T11:21:54-04:00 DEBUG metabase.server.middleware.log POST /api/card/605/query 202 [ASYNC: canceled] 14.1 s (9 DB calls) App DB connections: 0/15 Jetty threads: 2/50 (26 idle, 0 queued) (173 total active threads) Queries in flight: 7 (0 queued)
[eef4bde8-ab42-4b64-bf73-2fac6d7aed11] 2021-05-03T11:21:54-04:00 DEBUG metabase.server.middleware.log POST /api/card/608/query 202 [ASYNC: canceled] 14.1 s (9 DB calls) App DB connections: 0/15 Jetty threads: 3/50 (26 idle, 0 queued) (173 total active threads) Queries in flight: 6 (0 queued)
[eef4bde8-ab42-4b64-bf73-2fac6d7aed11] 2021-05-03T11:21:54-04:00 DEBUG metabase.server.middleware.log POST /api/card/907/query 202 [ASYNC: canceled] 14.1 s (11 DB calls) App DB connections: 0/15 Jetty threads: 4/50 (25 idle, 0 queued) (173 total active threads) Queries in flight: 5 (0 queued)
[eef4bde8-ab42-4b64-bf73-2fac6d7aed11] 2021-05-03T11:21:54-04:00 DEBUG metabase.server.middleware.log POST /api/card/1044/query 202 [ASYNC: canceled] 14.1 s (7 DB calls) App DB connections: 0/15 Jetty threads: 2/50 (26 idle, 0 queued) (173 total active threads) Queries in flight: 4 (0 queued)
[eef4bde8-ab42-4b64-bf73-2fac6d7aed11] 2021-05-03T11:21:54-04:00 DEBUG metabase.server.middleware.log POST /api/card/921/query 202 [ASYNC: canceled] 14.1 s (9 DB calls) App DB connections: 0/15 Jetty threads: 2/50 (26 idle, 0 queued) (173 total active threads) Queries in flight: 3 (0 queued)
[eef4bde8-ab42-4b64-bf73-2fac6d7aed11] 2021-05-03T11:21:54-04:00 DEBUG metabase.server.middleware.log POST /api/card/607/query 202 [ASYNC: canceled] 14.2 s (11 DB calls) App DB connections: 0/15 Jetty threads: 2/50 (26 idle, 0 queued) (173 total active threads) Queries in flight: 3 (0 queued)
[eef4bde8-ab42-4b64-bf73-2fac6d7aed11] 2021-05-03T11:21:54-04:00 DEBUG metabase.server.middleware.log POST /api/card/922/query 202 [ASYNC: canceled] 14.0 s (7 DB calls) App DB connections: 0/15 Jetty threads: 3/50 (26 idle, 0 queued) (173 total active threads) Queries in flight: 1 (0 queued)
[eef4bde8-ab42-4b64-bf73-2fac6d7aed11] 2021-05-03T11:21:54-04:00 DEBUG metabase.server.middleware.log POST /api/card/590/query 202 [ASYNC: canceled] 14.2 s (9 DB calls) App DB connections: 0/15 Jetty threads: 3/50 (26 idle, 0 queued) (173 total active threads) Queries in flight: 0 (0 queued)
[eef4bde8-ab42-4b64-bf73-2fac6d7aed11] 2021-05-03T11:21:55-04:00 DEBUG metabase.server.middleware.log GET /api/dashboard/63 200 111.0 ms (26 DB calls) App DB connections: 0/15 Jetty threads: 3/50 (25 idle, 0 queued) (173 total active threads) Queries in flight: 0 (0 queued)
[eef4bde8-ab42-4b64-bf73-2fac6d7aed11] 2021-05-03T11:22:19-04:00 DEBUG metabase.server.middleware.log GET /api/collection/7 200 4.9 ms (3 DB calls) App DB connections: 0/15 Jetty threads: 3/50 (26 idle, 0 queued) (184 total active threads) Queries in flight: 13 (0 queued)
[eef4bde8-ab42-4b64-bf73-2fac6d7aed11] 2021-05-03T11:22:20-04:00 DEBUG metabase.server.middleware.log POST /api/card/913/query 202 [ASYNC: canceled] 25.0 s (11 DB calls) App DB connections: 0/15 Jetty threads: 2/50 (26 idle, 0 queued) (184 total active threads) Queries in flight: 13 (0 queued)
[eef4bde8-ab42-4b64-bf73-2fac6d7aed11] 2021-05-03T11:22:20-04:00 DEBUG metabase.server.middleware.log POST /api/card/912/query 202 [ASYNC: canceled] 25.0 s (9 DB calls) App DB connections: 0/15 Jetty threads: 2/50 (25 idle, 0 queued) (183 total active threads) Queries in flight: 11 (0 queued)
[eef4bde8-ab42-4b64-bf73-2fac6d7aed11] 2021-05-03T11:22:20-04:00 DEBUG metabase.server.middleware.log POST /api/card/914/query 202 [ASYNC: canceled] 25.1 s (9 DB calls) App DB connections: 0/15 Jetty threads: 2/50 (25 idle, 0 queued) (183 total active threads) Queries in flight: 9 (0 queued)
[eef4bde8-ab42-4b64-bf73-2fac6d7aed11] 2021-05-03T11:22:20-04:00 DEBUG metabase.server.middleware.log POST /api/card/417/query 202 [ASYNC: canceled] 25.1 s (9 DB calls) App DB connections: 0/15 Jetty threads: 2/50 (25 idle, 0 queued) (183 total active threads) Queries in flight: 9 (0 queued)