Hi,
I'm attempting to connect Metabase to an Athena view. Our data is coming from Dynamo so it has a lot of JSON. I'm using views to extract the JSON into normal tables. In Athena, we have our query result location set to s3://athena-query-results/ and that's where I believe the information for the view is being saved. The tables that Athena is reading are stored in a different bucket s3://glue-dynamo-output.
I was able to connect to the query-results bucket but since last night Metabase has been stuck syncing: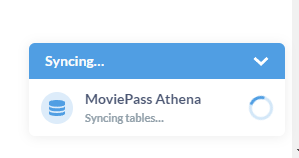 I'm wondering if I'm pointing to the correct bucket. I've done some digging and saw that you guys pushed support for Athena views a few years ago, so I'm pretty confident it can be done. I'm sure I just need some pointers on how to make the connection properly.
Diagnostics:
{
"browser-info": {
"language": "en-US",
"platform": "Win32",
"userAgent": "Mozilla/5.0 (Windows NT 10.0; Win64; x64) AppleWebKit/537.36 (KHTML, like Gecko) Chrome/111.0.0.0 Safari/537.36",
"vendor": "Google Inc."
},
"system-info": {
"file.encoding": "UTF-8",
"java.runtime.name": "OpenJDK Runtime Environment",
"java.runtime.version": "11.0.18+10",
"java.vendor": "Eclipse Adoptium",
"java.vendor.url": "https://adoptium.net/",
"java.version": "11.0.18",
"java.vm.name": "OpenJDK 64-Bit Server VM",
"java.vm.version": "11.0.18+10",
"os.name": "Linux",
"os.version": "5.4.209-116.367.amzn2.x86_64",
"user.language": "en",
"user.timezone": "GMT"
},
"metabase-info": {
"databases": [
"h2",
"athena"
],
"hosting-env": "unknown",
"application-database": "postgres",
"application-database-details": {
"database": {
"name": "PostgreSQL",
"version": "11.17"
},
"jdbc-driver": {
"name": "PostgreSQL JDBC Driver",
"version": "42.5.0"
}
},
"run-mode": "prod",
"version": {
"date": "2023-02-19",
"tag": "v1.45.3",
"branch": "release-x.45.x",
"hash": "070f57b"
},
"settings": {
"report-timezone": null
}
}
}
Thank you,
Josh