Newbie question, I am trying to create a question that is simply the sum of all the order subtotals in an 'orders' table (Postgresql DB). For various reasons the subtotal is in a JSONB field and it is text e.g. "22.84", it is not numeric.
So when trying formulate the question, the field does not come up in the list of fields that can be summed. So I tried a trick found elsewhere in the discussions here to create a custom column that is
[Odata → Subtotal] * 1
But when this is run it generates this error:
ERROR: operator does not exist: text * integer Hint: No operator matches the given name and argument type(s). You might need to add explicit type casts. Position: 4531
So I tried to cast this using Postgresql syntax and it was not accepted by the editor: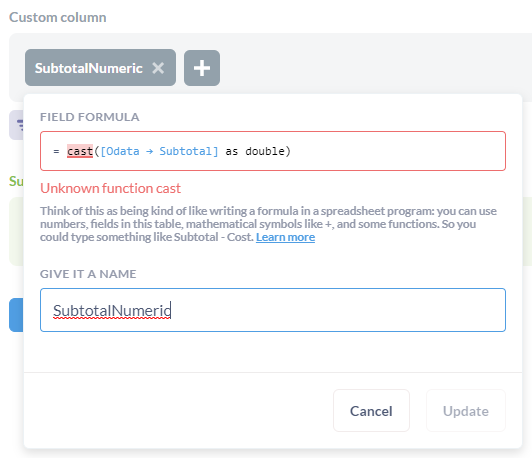 Is there any way to do this? I cannot change the DB data format...