Hi,
When I open one of my tables, I get this error, it just started a few days ago:
There was a problem with this visualization
Here's the full error message
Cannot read property 'rows' of undefined
However all queries appear to work just fine. It is just when opening the raw table, it never did it before, and I'm concerned it is indicative of some other more harmful problem that may present itself soon. Has anyone seen it before and know how to address it? I have not found this exact problem on the forum yet.
Thanks!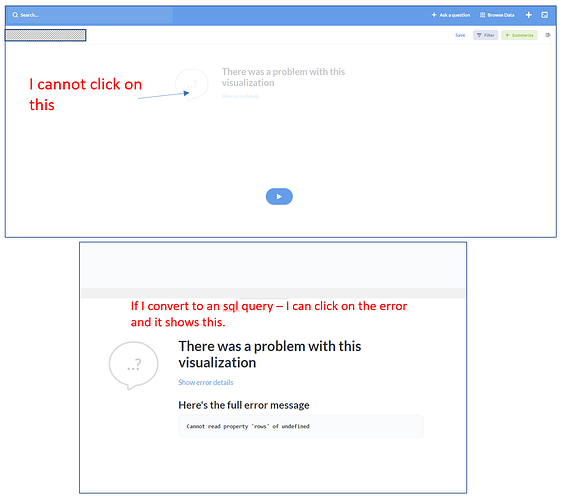 {
  "browser-info": {
    "language": "en-US",
    "platform": "Win32",
    "userAgent": "Mozilla/5.0 (Windows NT 10.0; Win64; x64) AppleWebKit/537.36 (KHTML, like Gecko) Chrome/88.0.4324.146 Safari/537.36",
    "vendor": "Google Inc."
  },
  "system-info": {
    "file.encoding": "UTF-8",
    "java.runtime.name": "OpenJDK Runtime Environment",
    "java.runtime.version": "11.0.7+10",
    "java.vendor": "AdoptOpenJDK",
    "java.vendor.url": "https://adoptopenjdk.net/",
    "java.version": "11.0.7",
    "java.vm.name": "OpenJDK 64-Bit Server VM",
    "java.vm.version": "11.0.7+10",
    "os.name": "Linux",
    "os.version": "4.14.138-89.102.amzn1.x86_64",
    "user.language": "en",
    "user.timezone": "GMT"
  },
  "metabase-info": {
    "databases": [
      "redshift"
    ],
    "hosting-env": "unknown",
    "application-database": "h2",
    "application-database-details": {
      "database": {
        "name": "H2",
        "version": "1.4.197 (2018-03-18)"
      },
      "jdbc-driver": {
        "name": "H2 JDBC Driver",
        "version": "1.4.197 (2018-03-18)"
      }
    },
    "run-mode": "prod",
    "version": {
      "date": "2020-12-17",
      "tag": "v0.37.4",
      "branch": "release-x.37.x",
      "hash": "e0d5287"
    },
    "settings": {
      "report-timezone": "US/Eastern"
    }
  }
}