Hi there,
Currently I have a Dashboard that has a 4-5 tiles that use the following Tables (all joined together):
Time_Subitem
Time_Item
Task
Resource
Project
Account
Territory
Role
Department Resource
Department
On the Dashboard, we use the following filters (have included which tables they're from too):
Project Number [from "Project" Table]
Project ID [from "Project" Table]
Department Name [Referenced as "Team", from the "Department" Table]
Project Start Date [from "Project" table]
Task Resource [Referenced as "Full Name" from the "Resource Table"]
Task Date Worked [From the "Time Subitem" table]
Region [From the "Territory" Table]
The User wanted to use their own table for Hourly Rates, so, we created a SQL CASE statement amending this, the Query is as follows [I've removed Names and Numbers from the CASE statement]: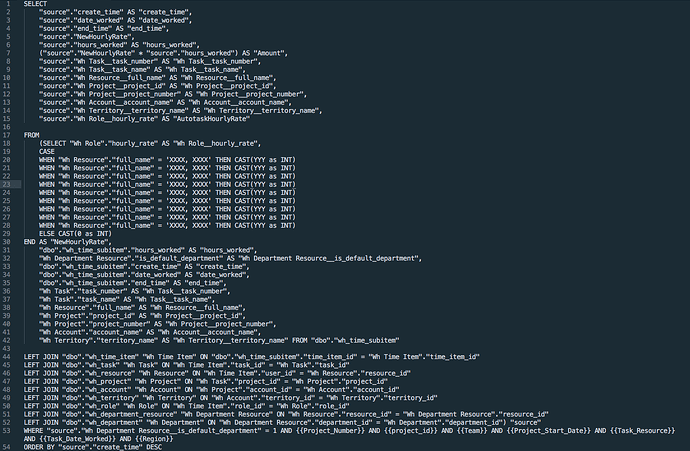 I've tried to use the Field Filters from SQL Variables in line 53, and have connected them with their respective Tables and Columns. However, when I join these to the existing filters on the Dashboard, and then try and run the Dashboard using filters, I am getting the SQL Error:
"The Multi-Part Identifier "dbo.wh_department.department_name" could not be bound".
At this stage I'm pretty stuck with a solution, but also the best practice here.