Background
I have received an email from Metabase, asking to fill up a survey: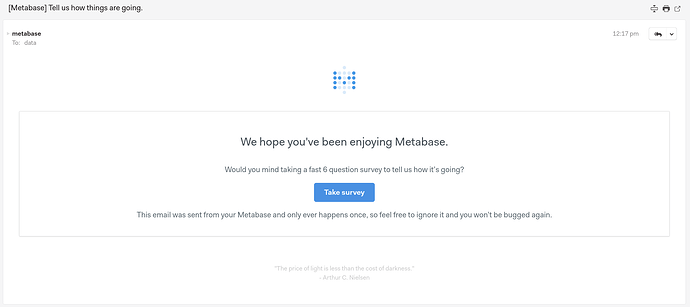 Problem
For while I am glad to help the development team in giving my feedback, I don't feel very comfortable with (apparently) one of my Metabase instance sending emails on my behalf without my prior approval.
Because in my case, both the Sender and Recipient email address are used in multiple instances, and, in some case, as the "General | Email Address for Help Requests", the "Email | From Address", and one of the email associated to a user account; I have trouble tracking down the logic behind this email.
Questions
So I am wondering:
which address is used as the Sender of the email?
which address(es) is(are) used as Recipient of the email?
what triggers the sending of this email?
should I want to, how to disable the sending of this (or any similar) email?