Guys, this is driving me nuts. I simply, quite often, find myself unable to save a native question, for a unkown reason. It will simply stay like this: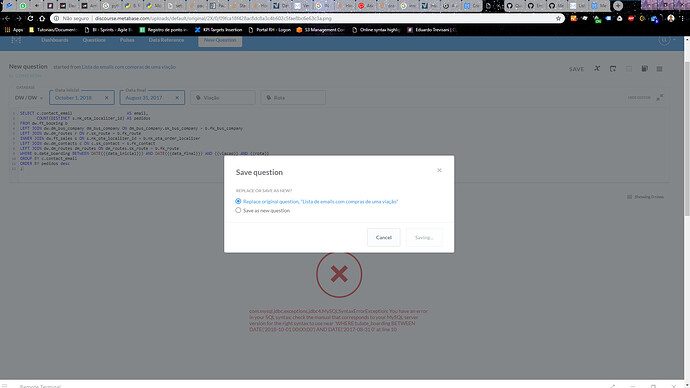 It may stay like that for 10, 20 minutes, and do nothing. The most annoying thing is that I'm trying to correct a mistyped SQL in the question, at least in this example, and I'm not being able to.
And then, the most critical one, metabase simply stops. I run my instance from the jar file (currently on 0.29.3, still looking for agood moment to switch to 0.30, given it introduces major lauyout changes), in a debian, on Amazon EC2. The logging simply stops, and no relevant info is shown at the end. I though it might be due to java virtual machine memory, but my jenkins instance, also in java, is still running alright - problem is with my metabase instance (not with my browser or machine, it goes down for everyone in the company, in any browser, and, given the log is quiet, I think it is really gone, despite the process being running).
Any light on these issues? I've come to the point that we've created a custom command on our EC2, "metakill", which kills metabase process and restarts it, so often it happens.
Related issues:



I can't find any help on either of these topics, nor workarounds. It is really depleting metabase functionality for us, since we can't really guarantee it is available at the moment.
EDIT: I was running metabase with the standard command, "java -jar metabase.jar" thing. Yesterday, I saw something in the logs related to OutOfMemory java error, and, then, I increased the memory alocated to Metabase process in the JVM, using something like "java -Xmx1024k -jar". I've thougth of it as an idea stemming out of a Stack Overflow question reference below. So far, it SEEMS to have solved the crashing issue.
EDIT2: no good on the crasing issue, even with the memory enhancement. Still crashing, and most of the time with no data on the logs - everything is running finely, and, all of a sudden, log goes silent.