Couple f days ago we updated from v45..3 to v46.1 and after that we are getting timeout errors while refreshing scheduled data models. Same timeout error when refreshing manually.
Where could we change timeout settings? It was working absolutely fine on older Metabase version.
I was not able to find any timeout settings in admin settings anywhere.
Thank you in advance for any help.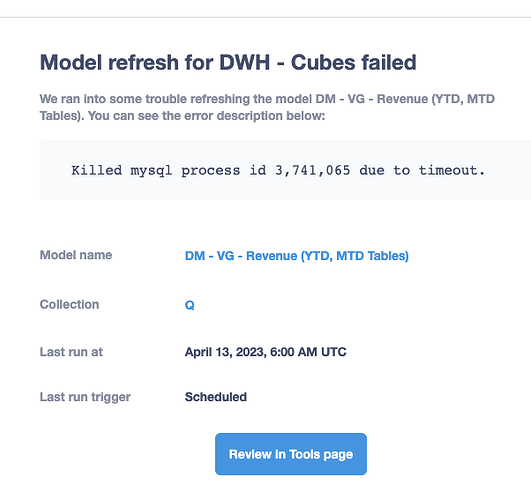 [13ac4ca6-6e74-4265-a91d-b73ba534abdb] 2023-04-13T08:36:52+03:00 INFO metabase.task.persist-refresh Attempting to refresh persisted model 961.
[13ac4ca6-6e74-4265-a91d-b73ba534abdb] 2023-04-13T08:36:52+03:00 INFO metabase.driver.mysql You may need to add trustServerCertificate=true to the additional connection options to connect with SSL.
[13ac4ca6-6e74-4265-a91d-b73ba534abdb] 2023-04-13T08:37:22+03:00 INFO metabase.task.persist-refresh Error refreshing persisting model with card-id 961
java.lang.Exception: Killed mysql process id 3,744,965 due to timeout.
	at metabase.driver.mysql.ddl$kill.invokeStatic(ddl.clj:43)
	at metabase.driver.mysql.ddl$kill.invoke(ddl.clj:34)
	at metabase.driver.mysql.ddl$execute_with_timeout_BANG_.invokeStatic(ddl.clj:56)
	at metabase.driver.mysql.ddl$execute_with_timeout_BANG_.invoke(ddl.clj:45)
	at metabase.driver.mysql.ddl$fn__103041.invokeStatic(ddl.clj:69)
	at metabase.driver.mysql.ddl$fn__103041.invoke(ddl.clj:62)
	at clojure.lang.MultiFn.invoke(MultiFn.java:244)
	at metabase.task.persist_refresh$reify__79259.refresh_BANG_(persist_refresh.clj:65)
	at metabase.task.persist_refresh$refresh_with_stats_BANG_$fn__79262.invoke(persist_refresh.clj:85)
	at metabase.task.persist_refresh$refresh_with_stats_BANG_.invokeStatic(persist_refresh.clj:84)
	at metabase.task.persist_refresh$refresh_with_stats_BANG_.invoke(persist_refresh.clj:69)
	at clojure.lang.AFn.applyToHelper(AFn.java:165)
	at clojure.lang.AFn.applyTo(AFn.java:144)
	at clojure.core$apply.invokeStatic(core.clj:673)
	at clojure.core$partial$fn__5914.doInvoke(core.clj:2660)
	at clojure.lang.RestFn.invoke(RestFn.java:397)
	at metabase.task.persist_refresh$save_task_history_BANG_.invokeStatic(persist_refresh.clj:108)
	at metabase.task.persist_refresh$save_task_history_BANG_.invoke(persist_refresh.clj:103)
	at metabase.task.persist_refresh$refresh_individual_BANG_.invokeStatic(persist_refresh.clj:222)
	at metabase.task.persist_refresh$refresh_individual_BANG_.invoke(persist_refresh.clj:214)
	at metabase.task.persist_refresh$refresh_job_fn_BANG_.invokeStatic(persist_refresh.clj:239)
	at metabase.task.persist_refresh$refresh_job_fn_BANG_.invoke(persist_refresh.clj:233)
	at metabase.task.persist_refresh.PersistenceRefresh.execute(persist_refresh.clj:249)
	at org.quartz.core.JobRunShell.run(JobRunShell.java:202)
	at org.quartz.simpl.SimpleThreadPool$WorkerThread.run(SimpleThreadPool.java:573)
[13ac4ca6-6e74-4265-a91d-b73ba534abdb] 2023-04-13T08:37:23+03:00 INFO metabase.task.persist-refresh Finished updated model-id 961 from persisted-info 41.```